E is for.. Evolve!
Posted on 23 May, 2018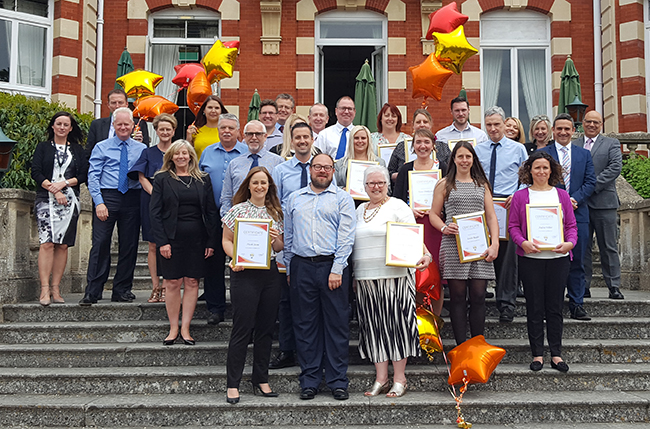 Not only are we passionate about great uniform, we're passionate about making Dimensions a great place to work. We're heavily invested in our staff, from training and development to health and wellbeing.
One such scheme is our Evolve scheme, launched in 2017 the concept behind Evolve was simple; to develop managerial schemes through mentoring. The programme was rolled out through our Castle Donington, Long Eaton and Castle Eden sites and into our sister company Alexandra and was an immediate success.
On Wednesday 16th May both our Mentees and Mentors were invited to a celebration at Chateau Impney in Droitwich to celebrate their graduation from the scheme. The day opened with a speech from Managing Director of Dimensions Hayley Brooks.
The mentees were then invited to present a 5 minute monologue on their journey throughout the Evolve programme, after a speech from Martyn Lyne, Managing Director of Alexandra, and Pat Woodfield Director of HR for the MWUK Group, a celebratory lunch was certainly well received! The day then closed with each graduate receiving a certificate and a goody bag to celebrate their achievements.
Pat Woodfield, Director of HR for the MWUK Group said; "I am delighted with the successful impact of the initial cohorts of the EVOLVE Management Development programme. We have run programmes for both Dimensions and Alexandra, and are always looking to invest and develop our people. To have a programme like EVOLVE become so successful, and make such a significant difference to how we work, in a relatively short period of time, is fantastic."
Dimensions are invested in our staff and their wellbeing. If we sound like a company you want to work for, get in touch today using our careers page.