Developing Your Corporate Wear – Developing Our Employees
Posted on 24 January, 2018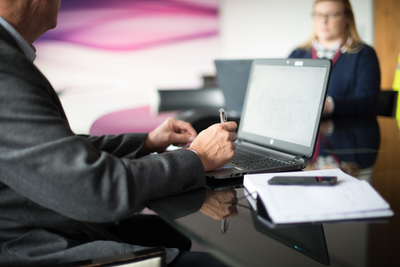 Not only are we passionate about great uniform, we're passionate about making Dimensions a great place to work. We're heavily invested in our staff, from training and development to health and wellbeing.
Mentoring was formally introduced into the business in 2017 under the name Evolve. The idea was to provide people with access to business professionals who have experience in a range of different skills from strategic thinking to managing challenging relationships. The programme has been rolled out through our Castle Donington, Long Eaton and Castle Eden sites so everyone can get involved and benefit from the scheme.
We have created guidelines and a mentoring agreement for both mentees and mentors. Managers were invited to volunteer to become mentors and we've created a database of all those who are willing to mentor. Initially we hold chemistry meetings between both parties to ensure that they are both comfortable and that the relationship will be effective.
Currently everyone on the EVOLVE management development programme has been provided access to a mentor, and feedback has been very positive. Mentors have reported that their own management and leadership skills are contstantly improving as they are challenged by their Mentee.
Deborah Gobey, Marketing Manager at Dimensions is a mentor in the programme and explained what being a mentor means to her:

"I am delighted to be a mentor on our Evolve Programme. For me being a mentor gives me great personal satisfaction in the knowledge that I am supporting the development of others whilst also developing my own management and leadership skills."
Dimensions are invested in our staff and their wellbeing. If we sound like a company you want to work for, get in touch today using our careers page.