About Us
On 16th August 2019, the management team acquired the Corporate Apparel Division of Tailored Brands Inc, with the backing of LDC, part of Lloyds Banking Group, as a result Mi Hub Limited was formed.
Mi Hub, with offices in the UK, Europe, USA and Bangladesh, is a global workwear solutions company, supplying businesses and individuals, through its Dimensions, Affinity, Alexandra, and Yaffy brands.
Midlands based Dimensions is the UK market leader in supplying corporate clothing solutions through multi-year managed service contracts. Dimensions has an impressive portfolio of over 100 major client accounts and delivers uniforms to millions of wearers across multiple industry sectors both in the UK and internationally.
The group also includes West Country based Alexandra, which offers a comprehensive range of catalogue garments and accessories from stock, to public and private sector businesses, across a wide range of sectors including healthcare and facilities management both in the UK and internationally.
US based Affinity, specialises in implementing domestic and global full-service, custom apparel programmes for partners within the mid-market uniform sector.
Yaffy, based in Glasgow, is a leading supplier of high performance outerwear and technical clothing to UK police forces. Yaffy is also a key supplier of uniform equipment carriers to various Forces.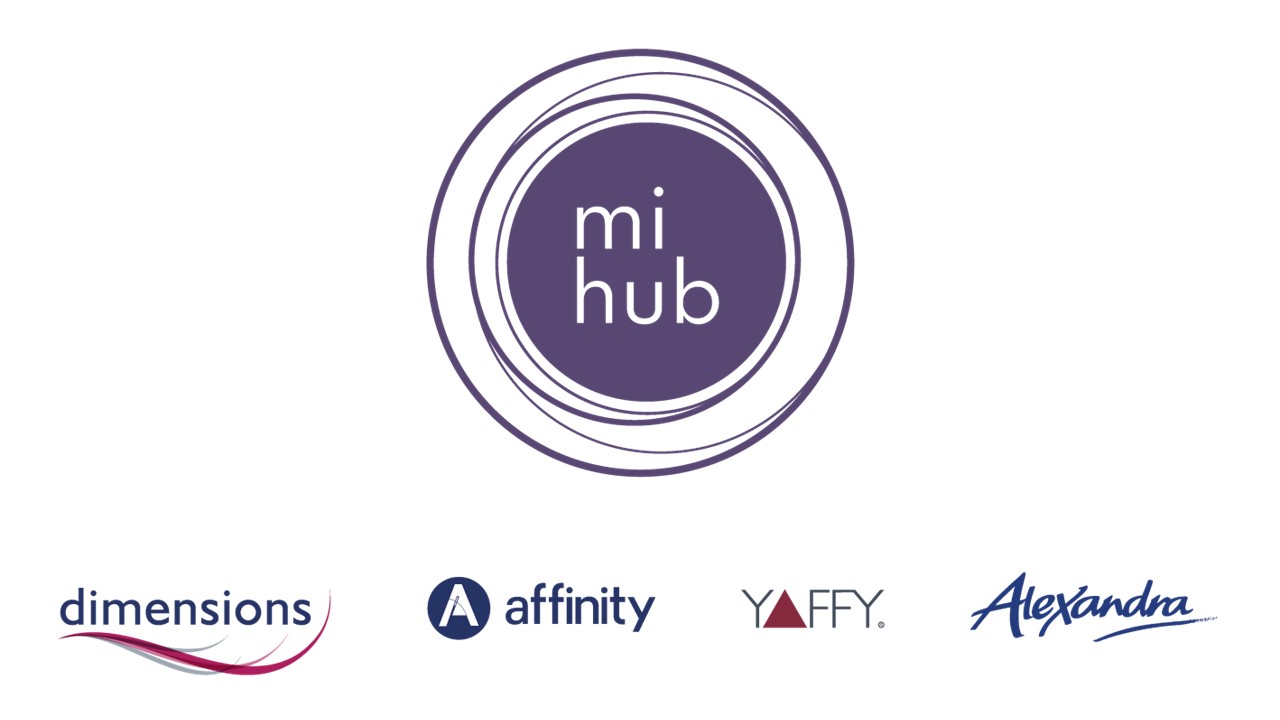 Timeline
2020

Dimensions is named in the Top 100 businesses in the East Midlands. Awarded the 'Individual Contribution' award at the McDonald's UK and Ireland Supply Chain Team conference.

2019

MBO with the backing of LDC, part of Lloyds Banking Group; as a result Mi Hub Limited was formed

2018

Awarded Cyber Security Essentials Plus Accreditation. Finalists in Digital Technology Leaders Award. Finalists in UK National Contact Centre Awards.

2017

Became Platinum Sponsor for the UK Corporate Games. Nominated for Virgins "Red Hot" awards, finishing in the final 3.

2016

Wins Tesco & ASDA – Account Manager of the Year award. Wins Highly Commended, at The Professional Clothing Awards

2015

This year was an exceptional year for awards as we received the Outstanding Contribution Award from McDonald's and were highly commended in the National Government Opportunities (GO) Excellence in Public Procurement Awards for the GO Sustainability/ Corporate Social Responsibility Initiative of the Year and the Procurement Innovation or Initiative of the Year (GO Awards Scotland).

2014

Wins 2 Awards - Tesco – Value Award & The Professional Clothing Awards – Highly Commended, Bespoke Uniform for Workwear

2013

Tesco – Value Award

2012

Dimensions won 3 awards at The Professional Clothing Awards 2012.

2010

In August 2010, Dimensions was acquired by the US$2.3 billion American organisation the Men's Warehouse.

2008

Dimensions continued to grow strongly and sales reached £90.6 million in 2008.

2007

The management team reacquired the business.

2004

Dimensions was reacquired by Johnson Service Group Plc.

2000

Management buyout from its then owner, Johnson Service Group Plc in December 2000.

1993

Dimensions relocated to the midlands.

1980's

Dimensions was acquired by the UK cleaning business Sketchley.

1948

Dimensions originated as a small, London based supplier of uniforms to the hotel industry.