The Bee Network unveils its new staff uniform for 4400 colleagues.
Posted on 04 October, 2023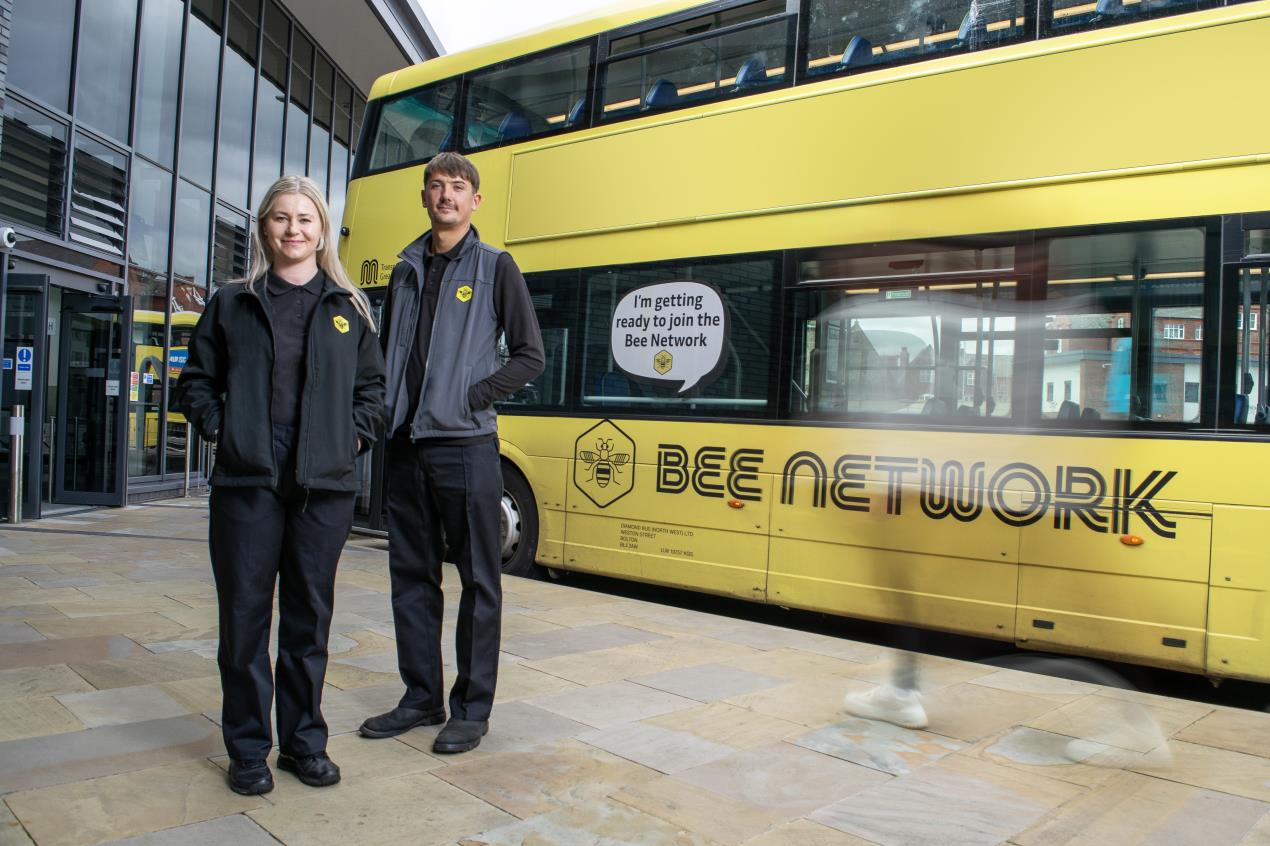 Dimensions is celebrating alongside Transport for Greater Manchester as they launched the Bee Network on September 24th and unveiled their new staff uniform, made by global uniform supplier Dimensions.
The Bee Network is Greater Manchester's trailblazing plan for a fully integrated London-style transport system, which last month saw bus services in some areas taken under local control for the first time in nearly 40 years.
Dimensions is proud to partner with Transport for Greater Manchester and franchise operators to provide their new staff uniform for the Bee Network. The uniform rollout will see 4400 colleagues dressed in the new uniform over a three stage rollout which has commenced with around 1200 staff included for Tranche 1 from 24th September
The new Bee Network staff uniform provides passengers with a clear and visible way of knowing who to approach for help and assistance when they are travelling on the network.
Drawing on Manchester's long-time association with the symbol of the worker bee, the uniform features the distinctive Bee Network logo and its design ensures it can be worn by everybody. It takes into account gender identity and religious requirements – and has been tested to ensure maximum comfort, safety, practicality, and style.
Focused on inclusivity, the range incudes both a standard and fitted wardrobe for Drivers, Supervisors, Ticket and Information Shop colleagues, Highways and Operational Control Room staff and Bus Station Assistants & Porters.
The range includes short sleeved and long-sleeved polos, sweatshirts, softshell jackets, gilets, trousers, cargos, 3 in1 coat, hi-vis vest, hi-vis trousers and a 5 in 1 hi-vis coat. Accessories include beanies, snoods, caps, and rucksacks. Rolling out in March 2024 the summer wardrobe will include cargo shorts and short sleeved polos featuring BCI cotton and recycled polyester.
Being part of the Mi Hub family brands strengthens Dimensions' product offering and brings with it the benefits of Mi Hub's central team of experts and services including a dedicated ESG team.
Dimensions has collaborated with our sister brand Alexandra to carefully curate the Bee Network's uniform, branding key pieces from Alexandra's ready to wear range.
As a Mi Hub brand, Dimensions' customers benefit from the group's continuous investment in ESG, and the commitment to investigating and implementing initiatives that positively impact our people and planet wherever possible.
Dimensions is proud to see the Bee Network uniform roll out, as it showcases the passion and values held by Transport for Greater Manchester.
"Dimensions were selected to be the successful supplier of the Bee Network uniform as they demonstrated that they could provide a uniform design of high quality at a reasonable price to franchise operators, along with robust customer support. We have been delighted to work with them along the journey developing the design and have received very favourable feedback from wearers in sample trials."
- Catherine Leach, Project Manager at Transport for Greater Manchester
"The uniform development process with Transport for Greater Manchester was genuinely a partnership in action. It has been exciting to work with a team that were driven to provide the best solutions for their colleagues and stakeholders. Transport for Greater Manchester genuinely care about the ethical sourcing and environmental standards behind the development of their uniform. It has been a privilege to be involved in such an ambitious project that will benefit residents across the Greater Manchester area."
- Phil Harland, Director of Client Management at Dimensions