Dimensions team walk 20 miles to help raise over £34,000 for The Greggs Foundation Breakfast Club.
Posted on 09 May, 2022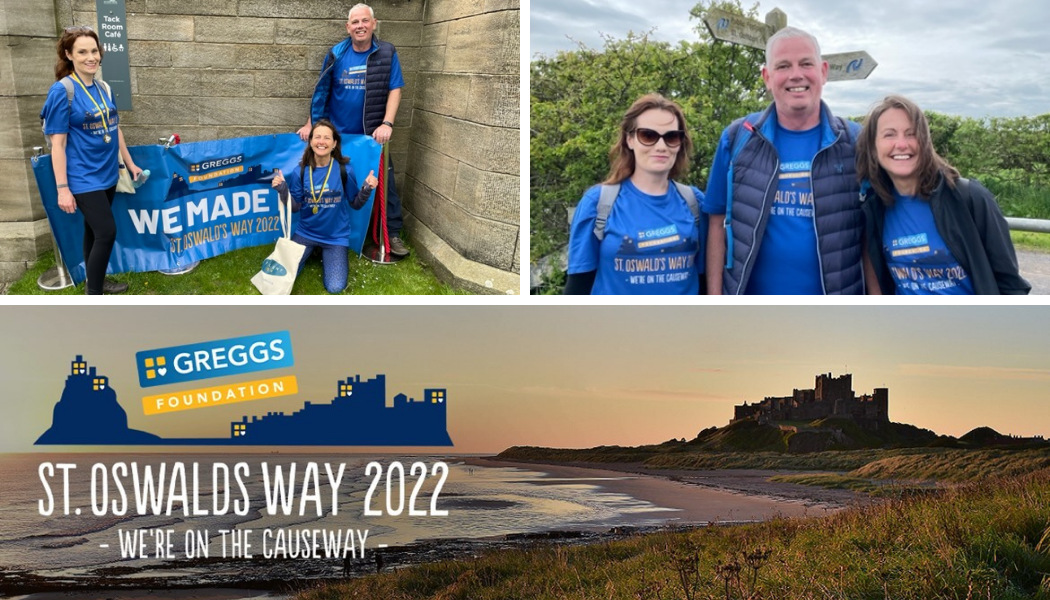 On Thursday 5th May 2022 team Dimensions took part in the Greggs Foundation charity walk taking in part of St. Oswald's Way and a 20-mile challenge, helping raise £34,300!
Everybody knows the benefits of a healthy breakfast, but not every child gets one before the start of the school day. The Greggs Foundation fund over 45,000 children to access breakfast each school day to help primary school children get a nutritious start to their school day.
The challenge was a 20 mile walk along the most spectacular section that Northumberland has to offer, starting at Holy Island and finishing at Bamburgh Castle. The challenge and all those who participated helped raise over £34,000 for the Greggs Foundation Breakfast Clubs.
Team Dimensions included Commercial Director, Ian McGinty, Senior Account Manager, Kara McElhinney and Head of Design, Julie Dowman. The team walked with the group throughout the day, completing the 20 miles in 6 and a half hours.
Dimensions has been working with Greggs plc since July 2014, supplying their workforce with branded uniform. As part of Dimensions' ongoing relationship with Greggs plc Dimensions became a Supporter of the Greggs Foundation Breakfast Club programme in 2016 with a commitment to donate breakfasts to the children who live in food insecure households at Roe Farm Primary School. Dimensions donate 7,600 breakfasts every year and throughout our partnership have donated over 45,000 breakfasts.
Dimensions is proud to be a supporter of the Greggs Foundation Breakfast Club Programme because it is a fabulous opportunity to support a school in the local community and provide those children living in food insecure households with a free breakfast every school day.
Senior Account Manager at Dimensions, Kara McElhinney said:
"I feel so lucky to have spent a day walking in our beautiful countryside supporting the Greggs Foundation and the amazing work they do. A great day was had by all and so much money was raised. This will make a real difference to so many children's lives."
Commercial Director at Dimensions, Ian McGinty said:
"Fantastic Foundation doing amazing things for those in need-you should all be so proud of the difference you make."
Breakfast Club Manager, Lynne Hindmarch said:
" I am so grateful to all the 150 walkers who took part helping to raise such a fantastic amount that will go a long way to support children access a FREE breakfast. In particular thanks to Team Dimensions, Ian, Kara, and Julie who not only did the walk with a smile on their face (well for most part) but also supplied and printed the t-shirts we all wore. A pleasure to work with you all. Here's to next year!"
About Greggs Foundation
Greggs Foundation is a grant-making charity which aims to build stronger, healthier communities in the areas where Greggs' operates. Their intention is to provide grant funding where it can do most good by focusing on
Addressing issues of poverty and inequality
Ensuring food is at the heart of communities
Supporting local community organisations to make a real difference
Greggs Foundation distribute over £3 million per year to charitable organisations throughout England, Scotland and Wales.
The Breakfast Club Programme was established in 1999 to help primary school children get a nutritious start to their school day. Every school is provided with fresh bread from their nearest Greggs shop and a grant to support start-up and ongoing costs. To find out more about becoming a partner of the Breakfast Club Programme, email breakfastclubs@greggsfoundation.org.uk

Learn more about Greggs Foundation at https://www.greggsfoundation.o...
Gallery
Check out more photos from their day on our Instagram highlight at @dimensionsmihub.