Dimensions supports KFC's #GBSpringClean Campaign
Posted on 08 June, 2021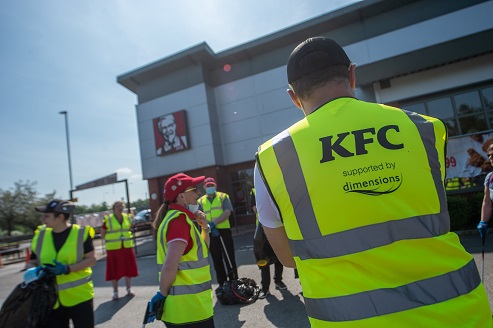 Keep Britain Tidy is an organisation set up to inspire people to eliminate litter now and for future generations. With many having rediscovered the beauty of the UK throughout the pandemic, this year's Great British Spring Clean, running from 28th May to 13th June 2021, aims to encourage us to show some love for those special places that helped us through lockdown.
As Supporting Partners, KFC UK & Ireland is on a mission to tackle litter and have launched a number of initiatives. On Tuesday 1 June, KFC kicked off this activity and the start of the Great British Spring Clean by sending its restaurants' teams across the country on a nationwide litter pick.
Dimensions were delighted to support this initiative by providing KFC team members with high visibility vests and also encouraged staff at their Derbyshire headquarters to join the #MillionMileMission.
Phil Harland, Director of Client Services said, "Dimensions has an environmental team and a number of #LitterHeroes who do litter picks around the local area to help improve the environment, so we were delighted to be able to support KFC's mission by providing their team members with hi vis vests. KFC's campaign is a great initiative to reduce litter and help Keep Britain Tidy reach their million-mile target."
To find out more about the #GBSpringClean and how you can support this initiative, visit: www.keepbritaintidy.org/gbspringclean