Dimensions Steps Back in Time to Support Greggs' Breakfast Club Programme
Posted on 11 October, 2021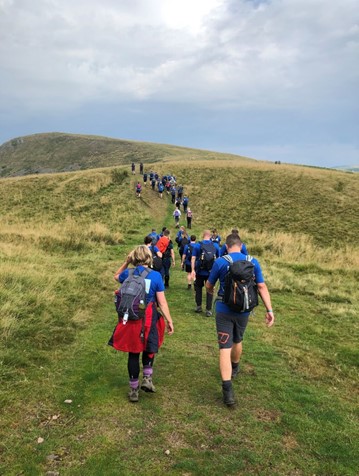 Dimensions has been working with Greggs plc since July 2014 and are proud supporters of their Breakfast Club Programme.
As such, the team at Dimensions recently joined Greggs Foundation on their Step Back in Time walk to raise funds to support their breakfast club schools.
Led by experts North East Guides, the walk through the beautiful scenery of Northumberland's National Park was just over 10 miles, and was a real 'Step Back in Time' passing old hill forts and settlements and a medieval village.
Lynne Hindmarch, Greggs Foundation Breakfast Club Manager said: "At times it felt like monsoon season had descended upon us but the joy and laughter that was apparent throughout the day got us all through – that and a Greggs treat!"
Ian McGinty Dimensions' Commercial Director said: "It was great to get involved with the Step Back in Time walk. From the donations received, the breakfast club can give over 57,000 children a free breakfast each school day."
If you would like to support the Greggs' Breakfast Club Programme and help to provide a child with a free breakfast, click this link: https://greggs.enthuse.com/cf/step-back-in-time
Gallery