Dimensions Summer Fete, Loop the Loop challenge and a thank-you
Posted on 03 September, 2019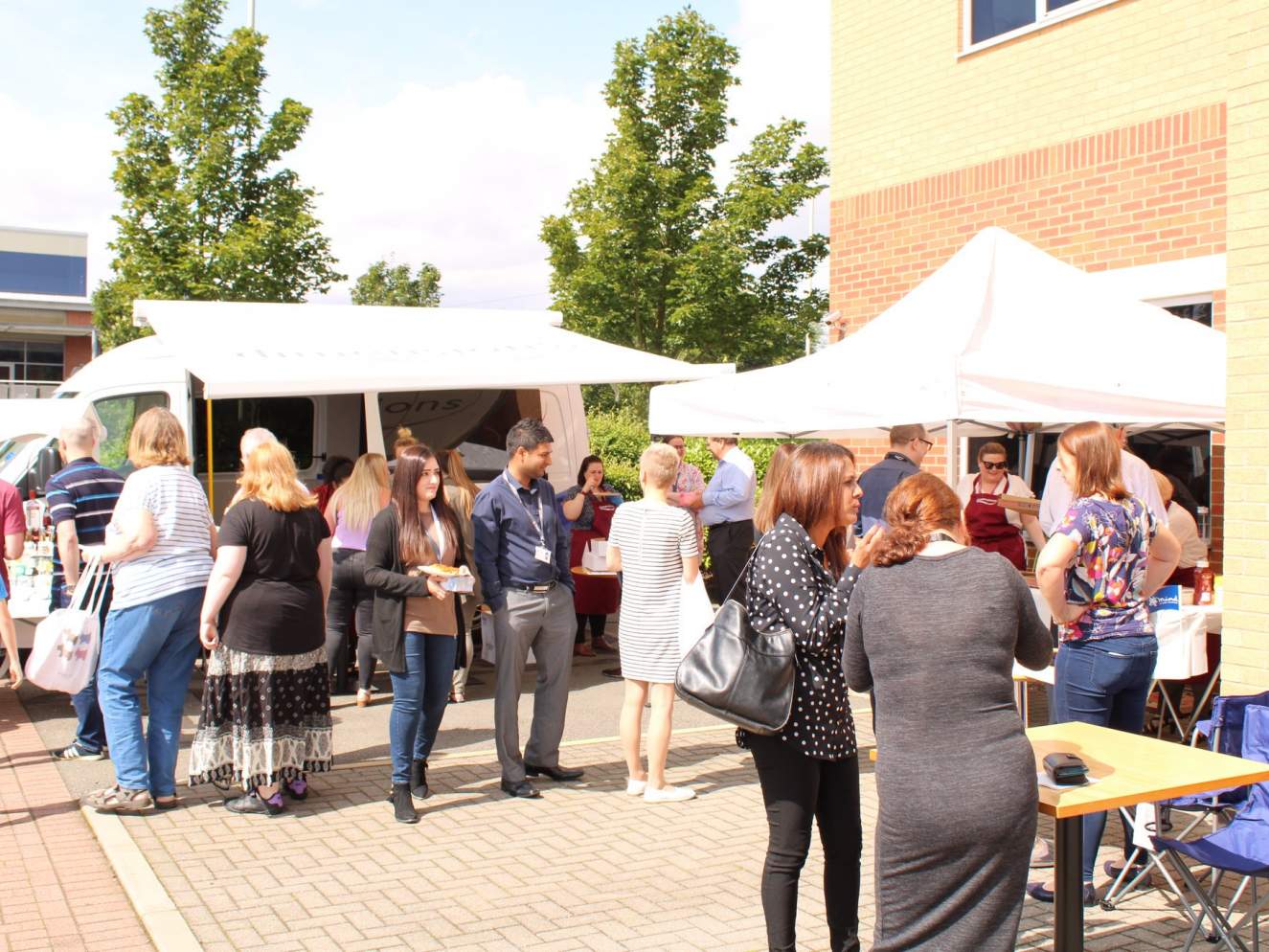 This month's charity update sees the first Dimensions Summer Fete, a Loop the Loop challenge and thank-you to staff.

First Dimensions Summer Fete a success!

On Wednesday 21st August, we held at Summer Fete at Dimensions HQ in Castle Donington, inviting staff, Castle Donington locals and fellow businesses to have fun in the sun.
There were plenty of activities to keep the masses entertained, between a mini-golf pitch and putt, fete-style games, a tombola and a raffle, full of brilliant prizes, many of which were donated by customers and staff.
Hungry visitors were treated to fantastic hot dogs and pizzas, with soft drinks served on a sunny day in Castle Donington, while there was also a popular clothes sale, The Body Shop ran their own stall, as well as pottery on show, made by Senior Sample & Technical Developer, Sarah Gateley.
There were also representatives from two of our annual charities, Save the Children and Doorways Derby, on hand to inform visitors to the Summer Fete about all the hard work that goes on. A whopping £1,805 was raised on the day in a fantastic day of fun – all for charity!
Loop the loop challenge on offer to Dimensions staff with Cancer Research
Cancer Research UK have been in touch about an exciting new fundraising opportunity for Dimensions employees to take on!
They are in the process of securing a date to have a Loop the Loop challenge with Leicestershire-based company Aerosparx.
Aerosparx are a world-renowned aerobatics display team who are revolutionising the world of entertainment with their incredible flying skills. They perform around the world, with destinations ranging from Eastbourne and Jersey to China and New Zealand.
They're looking at a date in November to take a loop the loop in one of their planes. The date is still to be confirmed but Cancer Research UK are reaching out for interested parties, with a £25 registration fee and the minimum sponsorship for £250.00.
For this you will be taken up with the display pilots, experiencing an adrenaline fuelled adventure and loop for loop for yourself, experience the cockpit and get the feel for it yourself, whilst being filmed for unique PR and social media content so please don't forget to share and encourage support from friends, colleagues, family and business links.
Loop the Loop Aerosparx Challenge will be taking place at the Gliding Centre, Husband Bosworth Airfield, Nr Lutterworth, Leicestershire LE17 6JJ in November (Date TBC).
If you want to get an idea of what it's like, watch the video here: https://vimeo.com/279102049 and visit the Aerosparx website here: http://www.aerosparx.com/index.php.
For further information please get in touch with Tracey Jones, at Cancer Research UK, on either tracey.jones@cancer.org.uk or on 07825424834.
A thank-you for Cupcake Day
We have had the below from the Alzheimer's Society, thanking us for our involvement in Cupcake Day 2019 on 13th June:
"A huge congratulations and well done for hosting your Cupcake Day. Thanks to you, Wendy, we are one step closer to a world without dementia.
Your Cupcake Day has contributed to raising a show-stopping £1.3 million for people affected by dementia. This fantastic amount is enough to fund 48 PHD students to study dementia for a whole year, in search of the breakthroughs we desperately need.
We hope your Cupcake Day was full of fun, laughter and a reminder that together we can bake a real difference.
Your amazing support is the ingredient we need to make the world a better place for people affected by dementia."