Dimensions' quality customer service highlighted in UKCCF award
Posted on 11 October, 2019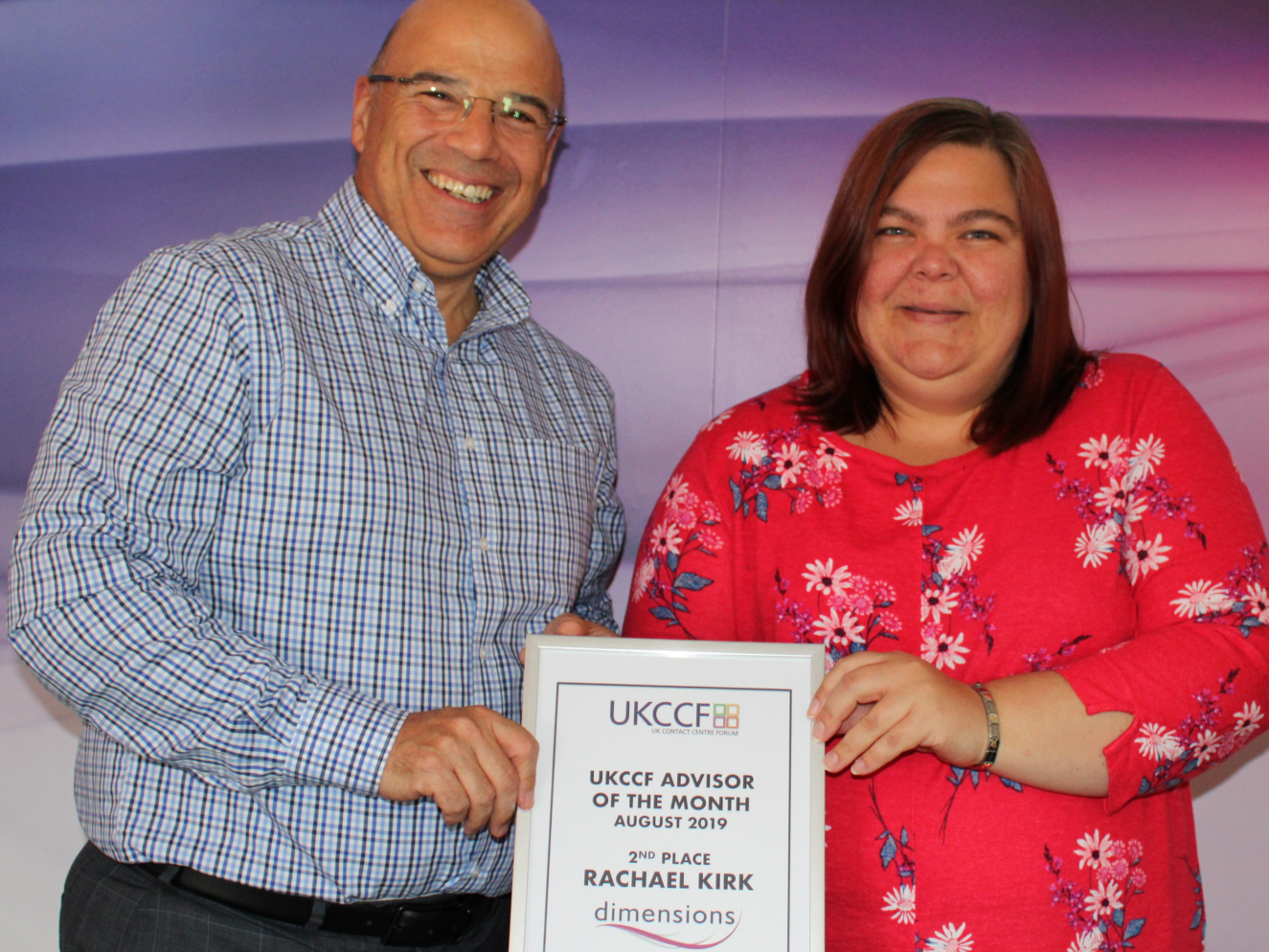 A member of Dimensions' Customer Service team has been highlighted for her sterling work by the UK Contact Centre Forum (UKCCF).
Rachael Kirk was nominated for the "Agent of the Month" award for August, and came second, following some work she'd done with a major supermarket to help an employee get some vegan shoes.
She won £100 of Amazon vouchers, and will be featured in the next UKCCF magazine, which is sent to thousands of members across the country.
Rachael said: "I was just doing my job!"
Julie Wright, Customer Service Manager, explains: "Rachael supports our B2B offering, by looking after the employees of a major supermarket, to which we supply their uniform. Recently, she was contacted by an employee of the supermarket who is a strict vegan, and had just started a new job.
"The gentleman had spoken to colleagues about what suitable footwear he could wear, as the supplied shoes, available to order online were leather, and the wearing of leather is against his personal principles. His colleagues suggested he call the dedicated customer service number, where he reached Rachael.
"She listened to his concerns over the wearing of leather, and suggested he make use of our Made to Order service, which is free to him, and we would provide bespoke shoes that are vegan friendly. When these arrived, some four weeks later, he emailed into our Customer Care mailbox to give us the following feedback:
"Many thanks to Rachel and the team. I sent an email and got an automatic response via email, made a call and the same day got an email telling me that Vegan Footwear is available and on way. Thank you. Soaking feet in trainers is not only cold, but not safe wearing sportswear on the job. Happy chappy. Thank you, Tommy."
"As a result, a potentially fractious incident was avoided and another customer was left happy, all down to some great customer service by Rachael."
Visit our Customer Service page, for more information on the fine work the team does: https://www.dimensions.co.uk/services/account-management-customer-service