Recycle, Reuse, Refurbish – Avoiding Landfill at the End of the Product Life Cycle
Posted on 28 September, 2018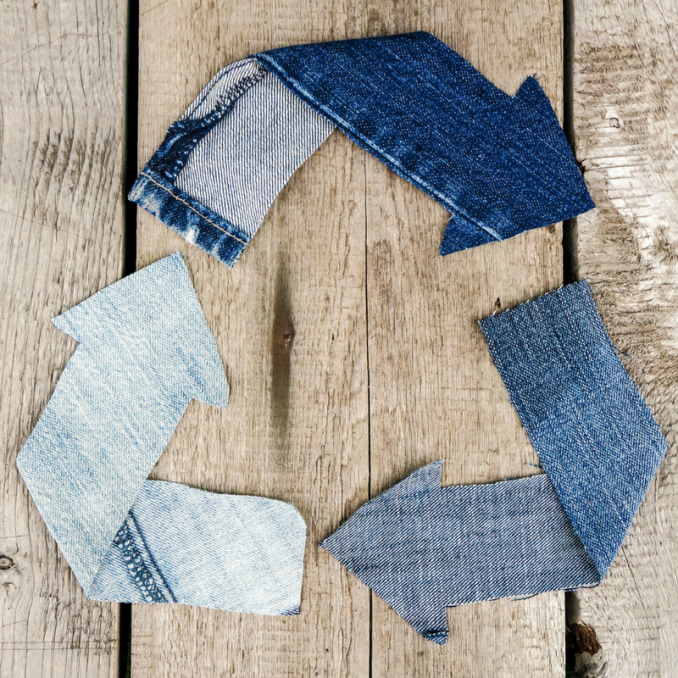 The Office for National Statistics states that at the end of 2016, 32 million people were working in the UK; many of whom will have worn some form of corporate clothing provided by their employer, whether that be work wear, career wear, corporate casual wear or a uniform.
With the average product lifecycle for corporate clothing being between 1-2 years, this means that approximately 10,000 tonnes is accumulated in corporate clothing waste in the UK each year. Whilst almost 10% of this is recycled or reused effectively, the remaining 90% goes to landfill or is incinerated. This could have a detrimental effect on the environment if changes are not made quickly. Of course we aren't suggesting that organisations alleviate the problem by not providing corporate clothing, as that would present new problems in itself. We do, however, need to look at how the issue is being addressed by employers, in partnership with their corporate clothing suppliers.
Last year, Dimensions provided corporate clothing for over 4 million people in the UK, approximately 13% of the working population and we recognise our obligations to care for the environment through the prevention of pollution, and the implementation and monitoring of good environmental practices. We strive to maintain best practices, seeking continuous improvement and innovation through our accreditation of BS EN ISO 14001 Environmental Management System. This includes how we deal with our clients' clothing at the end of their lifecycles.
Disposal of stock also forms part of our Quality Management System, ISO9001. All fabric and trims are ordered in line with required demand and any unusable product is securely disposed of in an environmentally friendly method.
Why isn't the majority of corporate clothing recycled?
There are three main reasons why the majority of corporate clothing is currently sent to landfill rather than recycled, those being:
1) Many uniforms are produced by blending fibres. This makes the garments difficult to recycle, as technologies for separating fibres are not commercially available yet
2) Security, branding and corporate image are big issues for corporate clothing disposal
3) Because of point 2, it can be difficult to find out which recycling companies will accept corporate wear, as there are a lot of rules and regulations about how garments should be dealt with
In the past, the recycling of clothing waste has relied on the value of the garments. Higher quality clothing has typically been sold in the UK via the charity sector, or for export to developing countries, whilst lower quality clothing has been disposed of. However, many organisations now demand a secure and audited process for handling items with their corporate name or logo on, in order to retain control of how and where their branding is seen, which has made them less suitable for export. This means that only garments which are not heavily branded can be sent to charities in developing countries.
In the first instance, our preferred method of corporate clothing disposal is the garment refurbishment scheme.
What is garment refurbishment?
As the originator of the garment refurbishment scheme in the corporate clothing industry, we work with clients on the environmental disposal of used garments from the wearer base. This generates substantial cost savings for clients, as well as significant environmental benefits. Uniforms from departing staff that are returned for recycling, are graded against pre-agreed standards before being professionally cleaned, repacked and returned to stock.
The refurbished items can be identified separately to allow re-issue to existing wearers. In addition to the cost savings generated, this scheme helps to reduce the amount of stock held at each location and ensures that all new starters are issued with a clean and properly presented uniform.
What if garments are not suitable for refurbishment?
If returned products cannot be refurbished, garments can be securely disposed of by being shredded and baled, before being flocked for utilisation in products such as car upholstery. They can also be used in the wiper/cloth industry, or sent to a recycling plant where the garment waste is turned into shoddy, which is then used to produce blankets for distribution into disaster areas.
The recycling agent that we partner with established a list of garments that are suitable for a new grade of processed waste called Waste Processed Fibre (WPF). This can be used in a number of applications, including mattress fillings, felts, sound insulation and heat insulation. The list includes the vast majority of corporate clothing, including work wear, fleeces, catering clothing and accessories, such as socks, ties and gloves.
In the past, only fibres which are inherently Fire Retardant (FR) such as wool, could be used in mattress pads. Now, the Waste Processed Fibre is shipped to mills and treated with a range of synthetic resins, which ensure that the fibre conforms to FR2 and FR1 standards. WPF can also be thermally bonded with nylon waste, generated from the manufacture of other products, including carpet tiles. The more nylon waste used, the more rigid the end product is. This means that it can be used for products including packaging, internal walls and concrete shuttering.
Can they be recycled into other corporate apparel?
We have an exclusive partnership in the corporate wear market to provide sustainable solutions for corporate textile waste by 'up-cycling' reusable materials into new, design-led products. For example, we have recently started transforming redundant high-visibility jackets into bags and mail sleeves. This provides an excellent alternative to sending those products to landfill and could bring potential cost savings to the client.
A further area of up-cycling involves one of our suppliers who, in partnership with us, has pioneered a scheme which harnesses modern technology to produce fibres, fabrics and clothing with minimal environmental impact.
This initiative starts with the collection of 100% virgin cotton surplus scraps, unused waste fibres and fabrics from cutting rooms. This is converted back into yarn and then blended and knitted with regenerated 100% polyester made from PET plastic bottles to produce knitted pique fabric. Once the fabric is knitted, it is then washed and finished to be manufactured into polo shirts without dyeing the fabric again. Our supplier of the dyed polyester has the Global Recycle Standard Certificate for added reliability.
These processes are supported by the use of efficient recycled energy to further reduce emission levels.
What about footwear?
Quality, paired shoes are generally in limited supply, as people tend to wear practical footwear such as trainers or work shoes until they are no longer fit for use. Fashion shoes are an exception to this, however they are not practical for recycle or reuse in the countries which shoes would be sent to. The footwear that we recycle can be redistributed all across Europe, however, the end uses for serviceable shoes and boots can vary. Trainers and lightweight shoes are typically shipped to different developing countries, as opposed to those who will accept heavier shoes and boots.
Unserviceable or unpaired shoes have two end uses:
- They are shredded and used in the Waste Derived Fuel product - this is normally the case for synthetic shoes
- Unserviceable leather shoes (without steel toe caps) can be mixed with other leather waste such as handbags and belts, which is exported to developing countries. There, it is recycled into a reconstituted leather product.
To find out more about the methods we use to dispose of or recycle used corporate clothing, or for any more information about the fully managed service that we provide, please call us on 01332 697045 or email hello@dimensions.co.uk