A is for… Account Management.
Posted on 08 March, 2018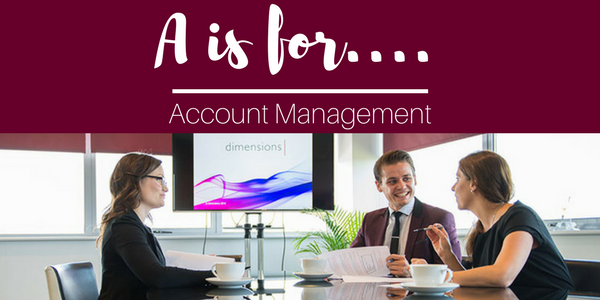 As a client of Dimensions with a fully managed service, you will have your own dedicated Account Manager.
Our account managers will be your port of call for any queries you have or anything you need help with. Between the whole team they have over 400 years account management experience! Your dedicated account manager will focus on making your life easier and will run your Dimensions account "behind the scenes." We have a lot of long standing relationships with our clients and their account managers and pride ourselves on the partnerships we create.
Our Account Managers are dedicated to looking after your business and will manage your allocation, so you don't have to! Detail and Mi Detail use the latest ordering and reporting innovations and these provide both wearers and managers with easy ways to manage their corporate clothing. Detail enables wearers to log onto their branded site and order their uniform, taking the hassle away from managers whose attentions can be focused elsewhere.
Mi Detail is a management information tool designed for managers to make life easier by keeping spending reports and view reports all in one, easy to access place.
Of course, we don't just look after our clients, we look after our wearers too. We try to make everything as easy as possible, but we know there will occasionally be times that your wearers need to contact us to resolve an issue. No matter how big or small your business is, your wearers will have a dedicated email address and service team at Dimensions, so their queries can be answered immediately by someone who knows your account!
We think our Account Managers are incredible, but don't just take our word for it.
In 2016 our Account Managers won Account Manager of the Year from both Tesco and Asda, and in 2015, we received the outstanding contribution award from McDonalds. We pride ourselves on going above and beyond for all of our clients, no matter how big or small.
If your business could benefit from our award winning, world class service, we'd like to talk to you. You can email us on: hello@dimensions.co.uk or give us a call on 01332 697045.