Style Guide - Christmas Jumper Day
Posted on 12 December, 2017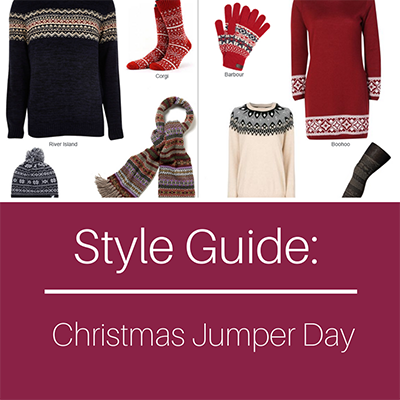 Christmas jumper day 2017 is coming! All over the country, offices will be transformed with glittering Christmas jumpers, some will be subtle, some will inevitably be sporting risqué slogans, and some will be an all-out incredible yuletide extravaganza! The £2 donation that you give to Save the Children will help bring essential healthcare, education and food to millions of children around the world.
So when the thought of wearing a Christmas jumper makes you cringe or your blue chip clients are coming in for their annual review, but you still want to take part in raising money, what do you do!? Of course, you could always put in a large donation and retreat back into your chair and hope no one calls out your lack of Christmas jumper.
Or, you could style it out into something chic and fashionable. This style guide put together by Dimensions explores ways to incorporate the spirit of Christmas jumper into your workwear wardrobe, and still stay boardroom ready!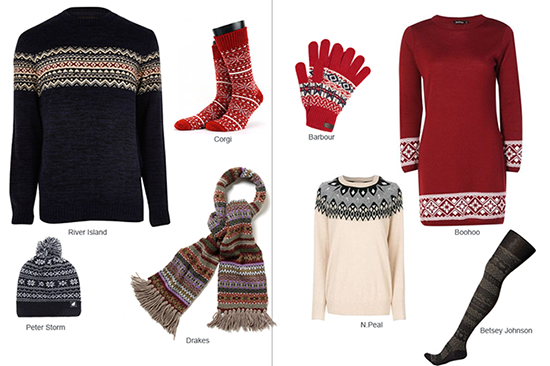 To join in the fun without resembling a walking Christmas advert, it's all about Fairisle prints. Classy enough to wear for work, but festive enough to help you pull off Christmas Jumper Day.
A pair of Fairisle gloves like these shown from Barbour, or a knitted pom pom hat from Peter Storm could be the get out clause that you're looking for! Your colleagues will see you walk in wearing your Christmas print, and your clients will be oblivious to your outfit festivities. There's also the bonus of being able to keep warm in the cold British weather too!
The festive detailing on this shift dress from Boohoo, combined with the burgundy colour will take you straight to the Boardroom. Of course, if that's still a bit much, a pair of subtle printed tights from Betsey Johnson could definitely be your get out clause. Worn with a plain black ensemble you'll be meeting ready in no time.
For the gents, this festive offering from River Island combines a smart navy with a fairisle print to produce a toned down festive jumper that can be worn on Christmas Jumper Day, for Christmas Day lunch, or simply for Christmas drinks. For the ladies N. Peal have this beautiful cashmere jumper that features beautiful patterning around the neckline, that could almost be described as Christmassy, paired with a pair of black trousers will be the dress down you've been looking for.
No one likes to be thought of as a Grinch at Christmas, and we hope this style guide has helped you with your Christmas Jumper Day woes! Don't forget to tweet us your Christmas jumper looks @Dimensions_MWUK !