Dimensions Donates £37,000 to Charity
Posted on 09 February, 2017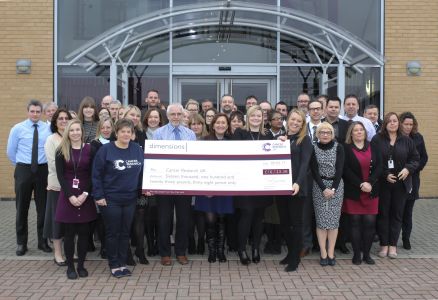 In the fundraising period from July 2015 – December 2016, we donated over £37,000 to charity. The impressive amount was raised through fundraising efforts by colleagues at three of our sites, as well as backing from suppliers.
As part of our Corporate Social Responsibility policy, we encourage our workforce to raise money through a mix of fun activities and dress down days which were held internally on a monthly basis. Each department took it in turns to host a fundraising day on the last Friday of each month and every charity day had a different theme, with varying activities taking place as a result. Fundraising activities included cake sales, car washes, cabarets and craft fairs, which contributed to the phenomenal amount of money raised.
Of the grand fundraising total, £32,000 was split equally between Dimensions' chosen charity partners for the year, Cancer Research UK and Glory Friendship Social Welfare Organisation. GFSWO is the school in Bangladesh which we have been working closely with over the past four years. The money that has been sent to the school has contributed to the running and maintenance of it, including rent, teachers' salaries and educational supplies. The donation will also sponsor three girls to attend university in Dhaka, Bangladesh, on a full bursary.
Following a series of coffee mornings in November, £2,500 was donated to Macmillan Cancer Support and the remaining £2,500 was split between various charities including Children in Need, Jeans for Genes, Save the Children and The Poppy Appeal after raising money through dress down days on nationally recognised fundraising days.
This month, Tracey Jones, Local Fundraising Manager for Cancer Research UK, joined us for the handover of the big cheque for the total funds raised for CRUK. This marked the beginning of the new fundraising year, which will have a key focus on local charities, as we continue to develop our commitment to the local community.
New charity partners for the coming year have been selected by each department and include Castle Donington Volunteer Centre, Treetops Hospice Care and the Baby Unit at Royal Derby Hospital.