Dimensions and Alexandra to be Platinum Sponsors of UK Corporate Games 2017
Posted on 23 March, 2017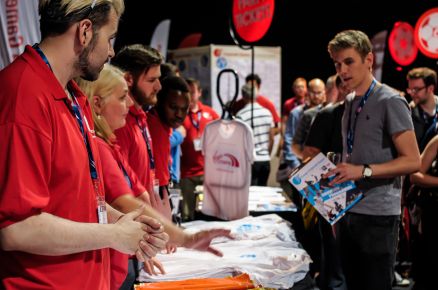 Dimensions and Alexandra are delighted to be Platinum Champions and Official Games Gift Sponsors of the UK Corporate Games 2017. The UK Corporate Games is Europe's largest annual multi-sports festival for businesses, corporations, organisations and institutions. This year, it has been awarded to the City of Nottingham.
The UK Corporate Games will take place 6-9th July and is open to all businesses and organisations. Companies may enter as many individuals or teams as they wish in any combination of the 23 sports, with teams consisting of colleagues, clients, family and friends. The Games typically sees thousands of participants from hundreds of organisations.
As a Platinum Sponsor, Dimensions and Alexandra will sponsor one Championship Division and one Sport Championship of choice and present both awards at the Corporate Games' Closing Awards Presentation. Games Medals are won by 1st, 2nd and 3rd placed competitors in each event.
First place athletes will also receive a Winners Entry into the World Corporate Games which will take place in Houston, Texas in November this year. Houston is one of the fastest-growing metropolitan areas in the United States, with an increasing reputation for hosting world-class, large-scale sporting events. It is also where Dimensions and Alexandra's sister company, Twin Hill is based.
Doug White, Global Partnership Director at Corporate Games, said "We are delighted that Dimensions and Alexandra have confirmed that they will be both Platinum Champions and Official Games Gift Sponsors for the 2017 UK Corporate Games. I'm sure that they will make a huge impact in Europe's largest corporate sport festival and we look forward to welcoming them to Nottingham in July."
Martin Lyne, Managing Director at Alexandra, said "We are proud to be sponsoring such a prestigious and inclusive multi-sport festival. At Alexandra, we are passionate about sport and excited at the prospects of great team building at top class facilities."
The official charity of the UK Corporate Games 2017 is the Children's Brain Tumour Research Centre, which works to tackle some of the most challenging issues in brain tumour treatment.