Customer Service Star of the Month… June
Posted on 11 July, 2017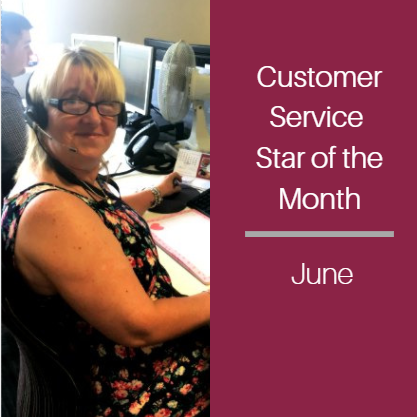 At Dimensions we like to recognise a job well done. Every month the customer service team here at Dimensions nominate and award the "Customer Service Star of the Month." This is the staff member that has gone above and beyond their usual duties and has excelled at their role. This month, Michelle Waters from the logistics customer service team beat the strong competition to win the award.

Michelle was nominated by her team leader, who goes on to explain the reason she chose to put Michelle forward for the award;
"Michelle is still quite new to the department having started in April but has achieved a lot in the short space of time she has been here. She has taken ownership of coveralls for Royal Mail which has been quite challenging, and very demanding at times. She has also been very supportive to the banking team and she has provided support by completing tasks that are outside her comfort zone when the banking team are very busy. Great job Michelle!"
Michelle is absolutely delighted to have won so early into her career with Dimensions.
"All I can say is that I couldn't believe it at all, but it is really nice to be nominated and win the award, I feel appreciated and can't really express how close I was to tears. I enjoy working here and love the fact that people are so helpful and nothing is too much trouble."
Congratulations are also owed to other members of our customer service team who have passed units on their NVQ qualifications this week. A massive well done to: Jessica Smith, Jessica Limb, Michelle Waters, James Griffiths, Jack Hazeldine, Amee Atkinson, Brenda Johnson, Sam Harby, and Sam Brinley!