July Charity Round Up
Posted on 03 August, 2017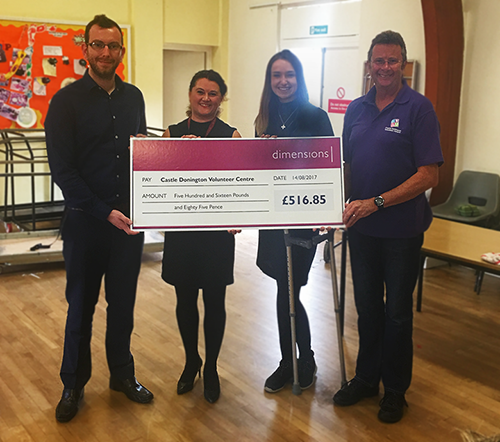 July saw Dimensions' Marketing and New Business teams join forces for a month of fundraising. This month, the charity chosen was the Castle Donington Volunteer Centre and the Bangladesh school that Dimensions supports annually.
Included in this month's internal activities were; a coin toss to win a bottle of wine, an afternoon tea trolley selling strawberries, cream and scones, cake sales, dress down days, a "Dimbledon" tennis game and a quiz with the winner receiving a chocolate hamper!
However, this month the teams decided to do something a little different. To give back to the local community that Dimensions is proud to be a part of, staff members volunteered their time to help.
Castle Donington Volunteers run a number of schemes to help the community, these include, a minibus service to help individuals who may struggle to get to the shops on their own, a "GrowCookShare" scheme, which grows fruit and vegetables in their allotment, to be cooked at their shared lunches.
To help out teams from all over Dimensions, cooking lunch, serving lunch, blackberry picking, weeding, planting and taking local members of the community shopping, all to give back to such an incredible charity.
The total raised by Dimensions was; £1,032.70 with £516.85 going to the Castle Donington Volunteers and the rest going to the Bangladesh School.
Phil Harland, Director of Client Management, said "Working in our community is a very important part of what Dimensions value. The Castle Donington Volunteer Centre is an absolutely fantastic charity and we hope our friendship with them will long continue."