Three New Appointments to Support Dimensions' Growth
Posted on 07 November, 2016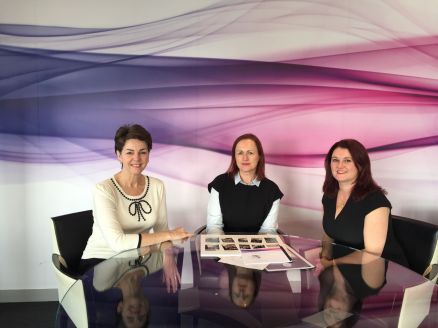 As Dimensions' client base continues to grow both in the UK and internationally, we have recently made three key appointments to the senior management team, Margaret McGregor Oliver, Clare Du Mughn and Deborah Gobey.
Margaret McGregor Oliver has over 15 years of experience within the corporatewear industry and has joined Dimensions' award-winning Account Management team as a Commercial Director. Margaret is responsible for a team of Account Managers, overseeing the relationships with existing clients and contributing to Dimensions' overall growth strategy. Prior to joining Dimensions, Margaret worked as a freelance corporate clothing consultant and has previously worked in senior roles within Account Management and Commercial teams.
Clare Du Mughn has over 25 years of design and product development experience and has joined the award-winning Design team at Dimensions as Design Director. Clare brings a fresh perspective to the Design team from her previous experience working as a designer for a well-known fashion and lifestyle brand. She will lead the designers in working to both national and international client briefs and play a key role in linking different departments within the business, which are crucial to the design and development process.
Deborah Gobey has over 15 years of marketing experience and joins the organisation's growing Marketing team as Marketing Manager. Deborah brings with her a wealth of expertise in developing and implementing marketing strategies in international businesses. Deborah will be utilising her extensive experience to grow the Dimensions brand, through the development of product and service offers available to both existing and new clients.
All three new appointments will play critical leadership roles within the organisation, working to achieve Dimensions' growth objectives.