And the grand fundraising total is…
Posted on 29 July, 2016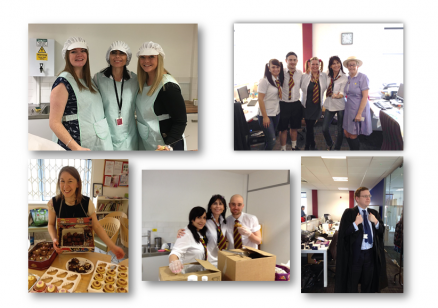 Between July 2015 – June 2016, Dimensions raised over £30,000 for its two charity partners for the year, Cancer Research UK and Glory Friendship Social Welfare Organisation. As part of its Corporate Social Responsibility policy, Dimensions has encouraged its workforce to raise money through a mix of fun activities and dress down days which were held internally on a monthly basis.
Each department at Dimensions took it in turns to host a fundraising day on the last Friday of each month. Every charity day had a different theme, with varying activities taking place as a result. From a quiz on the Purchasing team's 'Back to School' day, to an unforgettable cabaret performed by the IT department on their music themed day, there were activities to interest everyone and enable all staff to contribute to the phenomenal amount of money that has been raised.
The fundraising total has been split equally between the two chosen charities – with half being donated to Cancer Research UK and the other 50% being sent to the school in Bangladesh which Dimensions has been working closely with, over the past four years. The money that has been sent to the school has contributed to the running and maintenance of it, including rent, teachers' salaries and educational supplies. The donation will also sponsor three girls to attend university in Dhaka, Bangladesh, on a full bursary.
Two members of staff from Dimensions recently visited the school to see first-hand the impact that the money has made to the lives of those affected within the local Bangladeshi community. Ethical Compliance Officer, Georgina Deighton, visited the school and said: "I am so grateful that I was given the opportunity to visit Dhaka and to see for myself how much Dimensions has helped the children that attend Glory Future Model School".
As a result of Cancer Research UK's work, 50% of people diagnosed with cancer today will survive for at least ten years. CRUK now aims to progress that figure to at least 75% within twenty years. Dimensions hopes that its donation of £15,000 will support this ambition, by funding vital research into the disease.
The fundraising for year 2016-2017 has now begun at Dimensions and the goal is to exceed the £30,000 total for the past year. Watch this space!