My Local
Posted on 30 November, 2015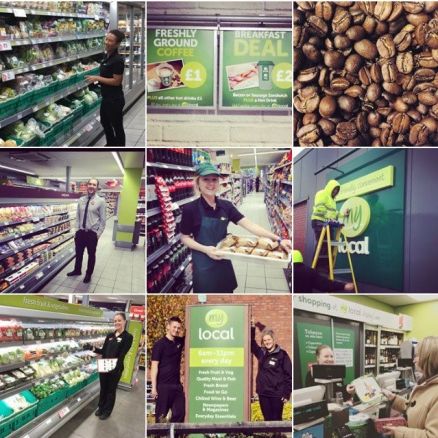 It was back in September 2015 when we first heard about a new convenience chain that would soon be hitting our high street. We promptly contacted My Local to see if we could help with the re-branding process from Morrisons M Local stores, to the new My Local format.
140 stores with 2,300 employees would be transferred across to the "My Local" store format at midnight on the 26th October, so time was of the essence to ensure all employees would be dressed in a new branded uniform.
Dimensions were able to meet with My Local soon after our initial conversations, to put an interim stock supported solution in place for the retailer. Due to the tight time constraints, a fully bespoke range would be extremely difficult to design and manufacture in time for the October launch, but we were able to demonstrate our experience of creating quick turnaround interim ranges for other customers in our client list, assuring My Local that we were very experienced in this field.
My Local did not know the size profiles of their 'soon to be' workforce, but we were able to turn to our skilled forecasting team to estimate what would be needed based on our vast experience of supplying other retail customers. This helped the project progress smoothly without over or under ordering on items.
The interim range consisting of embroidered black polo shirts and soft shell jackets was rolled out successfully to My Local stores in October and a fully bespoke range is now in its initial design phases.
My Local said "we were impressed with how Dimensions were very quick to pick up the phone and see how they could help. It has been a whirlwind 6 weeks but their expert experience put us at ease that we had chosen the right supplier to help not only with the interim, but also be a long term supplier. We can't wait to see what they've got in mind for the fully bespoke range!"