New UK manufacturing route for Dimensions
Posted on 01 January, 2014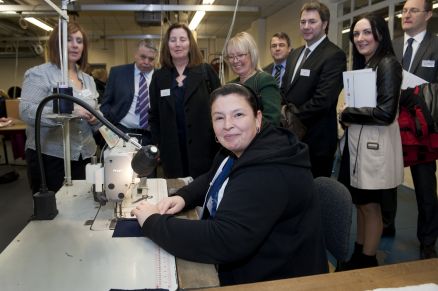 Dimensions are excited to unveil that we have embarked upon a new manufacturing route in the UK, working with Haven PTS to produce garments for one of our NHS customers.
In 2013, we were successfully re-awarded the NHS Scotland contract. Shortly after this announcement, we commenced the production of garments with Scottish based manufacturer Haven PTS to supply garments within the nursing uniform range.
Haven PTS is a social enterprise which is part of Momentum and the wider Rehab Group who are a leading not for profit organisation who provide rehabilitation, training and care services for disabled and socially excluded people in the UK. Haven PTS was formed in 2013 when Remploy closed 5 factories in Scotland making 250 people redundant. As a result, the Rehab Group and Haven PTS were successful in taking on the assets of some of these previous Remploy factories.
Working alongside NHS Scotland, our relationship with Haven PTS got underway in October 2013, with the Stirling site hiring 16 people to work on the contract, 15 of which were people with disabilities who had previously worked for Remploy. The site had previously been responsible for manufacturing technical PPE items including taped seam technical garments amongst others. Therefore, not only is the workforce trained to produce textile items, but the site is also fully equipped to cope with the manufacturing process required for this contract.
Dimensions provided support to the Haven PTS site at the outset, offering technical support and training to the factory to ensure the workforce were fully confident throughout the manufacture process.
The factory initially manufactured navy blue poly cotton trousers for Dimensions as part of the NHS Scotland contract. The fabric is manufactured and dyed in the UK and then transported to Haven PTS's Dundee site for cutting and then finally transferred to their Stirling site for manufacture, making the whole supply chain UK based. Final production seals were created in the factory by Christmas 2013 and the site was also awarded their BS EN ISO 9001 quality management system accreditation and completed their Ethical Trading Initiative audit at the same time.
By January 2014, the site had increased their total headcount to 26 staff and manufactured 1,300 pairs of trousers. By April, the site was manufacturing 7,000 pairs of trousers a month.
In the same period that PTS has been working closely with Dimensions, the first six months of the new business has also seen them be successful and secure work for other customers in the specialist textile PPE, textile marine safety products and underwear/lingerie sectors.
As of June 2014, the site will start to manufacture maternity trousers as part of the same contract. A percentage of the contracts nursing tunics will also be manufactured at the site by August 2014 and Haven PTS are currently recruiting for these roles.
Eventually PTS will manufacture approximately 96,000 pairs of trousers and 37,500 tunics in a year. In 18 months time, it is hoped that the site will have a workforce of 80-90 people and it is anticipated that new contracts will help to expand areas of expertise of the workers, allowing them to undertake more complex manufacturing processes in the future.
Dimensions are delighted with the progress of the contract so far and we look forward to working with Haven PTS for the remainder for the 3 year contract. Not only do Haven PTS offer quality products at competitive prices, but they also provide jobs and ongoing training and development opportunities for its workforce, something we fully support.
We are very proud to work alongside social enterprise Haven PTS, and hope to continue encouraging them in their future endeavours.
If you have any questions with regards to this article, please call one of our team on 01332 697 350, or alternatively, you can email us: info@dimensions.co.uk