Dimensions invests in designers of the future
Posted on 01 May, 2014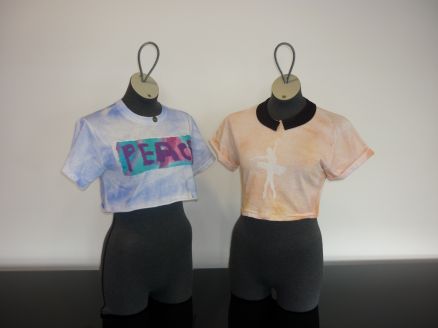 2014 marks the third year that Dimensions worked with Windsor C of E Middle School in Uttoxeter for a Design and Technology module. Dimensions supports the studies by providing the required materials which this year included jersey tops, fabric dyes, printing and embroidery equipment.
Themes of the project in previous years have included inspired street wear and youth culture. The year 8 students' brief this year was to design their own t-shirt which must incorporate a graphic design that they have created themselves and one structural alteration.
The project required each pupil to also show their journey to the final design using sketch books, mood boards and development technique samples such as tie dye, embroidery, stencil sprays and transfer printing.
Over 100 fantastic designs were created which were then reviewed by two members of the design team at Dimensions.
Three winners were selected who each stood out through their creative use of graphic techniques and the development of their ideas into a finished piece. Dimensions plans to continue to support the school with this project next year and we are very much looking forward to encouraging the 2015 year group with their designs.
The winning t-shirts will be displayed by a local retailer in Uttoxeter and each of the three pupils will receive a reward from Dimensions.
If you have any questions with regards to this article, please call one of our team on 01332 697 350, or alternatively, you can email us: info@dimensions.co.uk