Dimensions help RBS celebrate their Scottish heritage
Posted on 05 August, 2014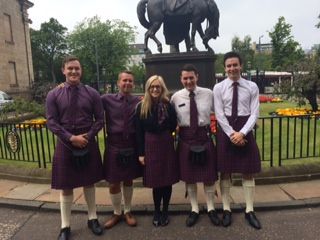 The Glasgow 2014 XX Commonwealth Games got off to a fantastic start with its colourful Opening Ceremony on Wednesday 23rd July and Dimensions feel very fortunate to have played a part in helping our customer The Royal Bank of Scotland, commemorate the sporting occasion in style.
RBS approached Dimensions in spring 2014 to create unique ties and scarves for employees to wear in 5 branches across Glasgow and Edinburgh during the summer event. The accessories needed to reflect RBS's Scottish heritage and support of the Commonwealth Games.
Dimensions worked with local Scottish and English manufacturers to create a bespoke tartan for RBS. Initial feedback proved that the pattern was incredibly popular and it was decided that kilts and skirts should also be introduced to the range as special edition items. Dimensions then sourced traditional sporrans and hose to complete the attire.
Employees at the RBS branches received their garments in time for the launch of the games on the 23rd of July in bespoke garment boxes with specially designed tissue paper to celebrate the Scottish event. Following on from the Commonwealth Games, all staff members at RBS will receive the unique tie and scarf created to mark the occasion.
Elaine Norfolk, RBS Account Manager at Dimensions said "We have thoroughly enjoyed working on this special project with RBS. These celebratory events are uncommon and we very much look forward to new and unusual requests our customers present us with. The bespoke tartan certainly is something distinctive to RBS and the rapid turnaround made it an exciting project to work on. We are delighted with the outcome and are looking forward to our next request!"
If you have any questions with regards to this article, please call one of our team on 01332 697 350, or alternatively, you can email us: info@dimensions.co.uk
(Images provided by RBS and Dimensions)