Dimensions Double Celebration!
Posted on 21 November, 2014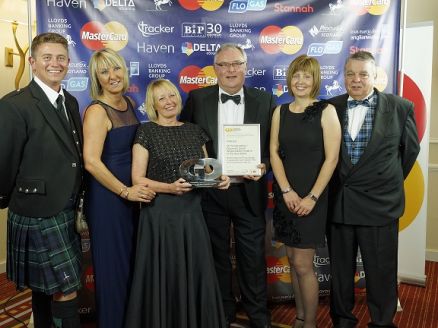 Dimensions had a hugely successful evening on the 21st October, picking up 2 awards at the Go Excellence in Public Procurement Awards Scotland 2014/15.
In 2013, Dimensions were successfully re-awarded the NHS Scotland contract. Shortly after this announcement, we commenced a collaborative venture with NHS National Services Scotland and Scottish based manufacturer Haven PTS to supply garments within the nursing uniform range.
The achievements of this project by all parties were formally recognised at the GO Excellence awards. The event, held at the Glasgow Marriott hotel, was a glittering black tie affair to celebrate a fantastic year within procurement in Scotland.
Entries were reviewed by a panel of 8 judges who were experts in Scottish and UK Procurement. They reviewed all entrants to find the best achievements across the public, private and third sector organisations where entrants strived to make a difference to the Scottish Economy.
The GO Sustainability / CSR Initiative of the Year Award was awarded to NHS Scotland National Procurement in partnership with Haven PTS and Dimensions.
The night didn't end there though as the team were also awarded Highly Commended in the GO Procurement Innovation or Initiative of the Year Award.
Linda Harrison, Dimensions Commercial Director says: "This procurement initiative successfully brought together a public and a private sector organisation both assisting the development of a 3rd sector enterprise. At Dimensions, we were able to use our manufacturing, process design, quality control and economies of scale to enable Haven PTS to manufacture garments for the NHS Scotland contract. As well as providing high quality garments to the end customer, this innovative project means that Haven PTS has strong foundations on which they can continue to grow a sustainable enterprise and offer additional future employment. "
The procurement and commercial approach that was developed and adopted by NHS National Services Scotland in partnership with Haven PTS, Dimensions and Scottish Government has been viewed by all concerned both highly creative, imaginative and ground-breaking.
A great evening was had by all.
You can read more about how Dimensions came to be involved in the project in our "New UK manufacturing route for Dimensions" news article.
Photographed with the awards are (L-R) Jamie Lawson (General Manager Haven PTS) Angela Holmes, (Dimensions Purchasing Director) Linda Harrison (Dimensions Commercial Director) Peter McConnell (Strategic Sourcing Manager NHS National Services Scotland), Rebecca Cruickshanks (Senior Commodity Manager NHS National Services Scotland) and Derek Boyden (Dimensions Technical Services Director).