C is for… CSR
Posted on 11 April, 2018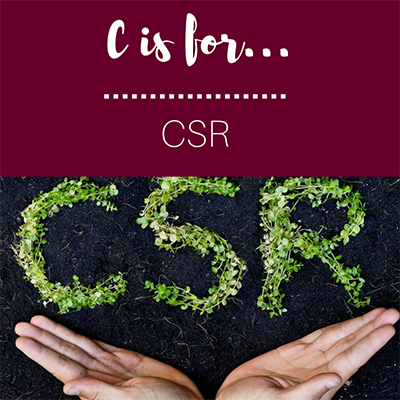 To enable businesses to thrive in the modern world, companies need to take a social stand. Consumers are more savvy now than they ever have been, and they are now looking for more than just good quality goods at the right prices. They take into account companies beliefs and practices before buying. Studies have shown that consumers are 55% more likely to purchase from a company that prioritises their social responsibility.
Investors who are investing large amounts into companies want to know that their funds are being used properly. When companies donate time and money to charities and non profit organisations they demonstrate their interest in the local and global communities. Investors are more likely to be attracted to companies that demonstrate a commitment to good CSR practices that impact the lives of others.
The benefits of CSR goes beyond investors and consumers. Employees like working for a company that is philanthropically minded and have ethical working policies. Over 60% of employees who are proud of their company's social responsibility are engaged at their jobs, which goes to show happy employees equals better output. When companies show their dedication to improving their communities and those in which they operate they are more likely to attract and retain valuable, hardworking employees.
But how can your choice of workwear supplier help improve your company's CSR?
When choosing a supplier, it's important to know the real cost of your uniform. Businesses would do well to research if companies are members of ETI and Sedex to ensure fair working conditions in factories abroad and transparency of their supply chains. When choosing your workwear supplier they are acting as your brand ambassador, and being caught out using a company that does not set firm regulations in their supply chain could be a costly PR disaster.
Dimensions are incredibly proud of our initiatives both at home and away. As members of ETI, we comply by their base code which is outlined in our ethical trading article. We are also proud to run the Jeti and HER projects in many of our factories abroad to help empower our employees and give them the same rights as our employees in the UK.
Closer to home, in 2017 our amazing team members raised over £40,000 for various charities and donated their time to our local community volunteer group. We also supported many of our clients' charity initiatives including the Ronald McDonald House and the Rowland Hill.
For a uniform that looks good and does good, get in touch on 01332 697045 or email us on hello@dimensions.co.uk