How We Make Our Factories A Fairer, More Ethical Place To Work
Posted on 20 February, 2018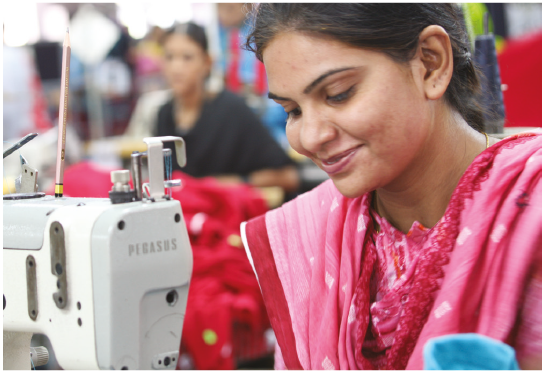 We've previously written about our commitment to ethical trading within our supply chain, but did you know we also run a variety of projects to help improve the overall lives of the workers, both at work at in their personal lives?
HER project
We are proud to be a part of the BSR HERproject. This is an initiative that strives to empower women working in global supply chains. The HERproject consists of three parts, HERrespect, where the main focus is on gender equality, HERfinance focusing on financial inclusion, and HERhealth. All three projects are designed to help women understand their rights and role in the community. Workers participate in the projects during the working day, and their pay is not affected by their participation. We are awaiting our baseline results from the first cohort, and this article will be updated accordingly.
Since its inception in 2007, HERproject has worked in more than 420 workplaces across 14 countries, and has increased the wellbeing, confidence, and economic potential of more than 500,000 women.
Jeti Programme
It's important to us that the workers in our supply chain have a voice. We collaborated with the Joint Ethical Trading Initiative (JETI) to deliver a training programme for workers to help them understand their rights to freedom of association and collective bargaining.
Working alongside JETI we have ran free balloted elections in our Bangladesh work base, this means workers are elected by their peers, rather than the management. This helps ensure a more open and free workplace that's ran fairly and represents the workers views. This is a programme that we are expanding throughout our supply base to ensure worker rights are recognised throughout our supply chain.
Benefits for Business and Workers
The benefits for Business and Workers programme means organisations can improve working conditions and livelihoods across the global supply chain to bring clear benefits to both ends of the supply chain.
The Benefits for business and workers programme aims to improve communication skills within the workforce, create HR systems to allow fairer better quality jobs. Productivity systems are also implemented which addresses root causes on issue area relation to building and fire safety.
Results have shown that when a HR system is established worker absenteeism dropped by 33%, and staff turnover decreased by more than 50%. Through the improvement of facility efficiency the management were able to increase worker wages by 11%, which decreased the amount of overtime hours being worked by 44%. In line with our membership to ETI, we pride ourselves on ensuring our supply chain remains ethical and transparent.
For uniform that looks good and does good, get in touch today by calling us on: 01332 856800, or emailing us at: hello@dimensions.co.uk