Shining a Light on the Nursing Profession
Posted on 06 April, 2020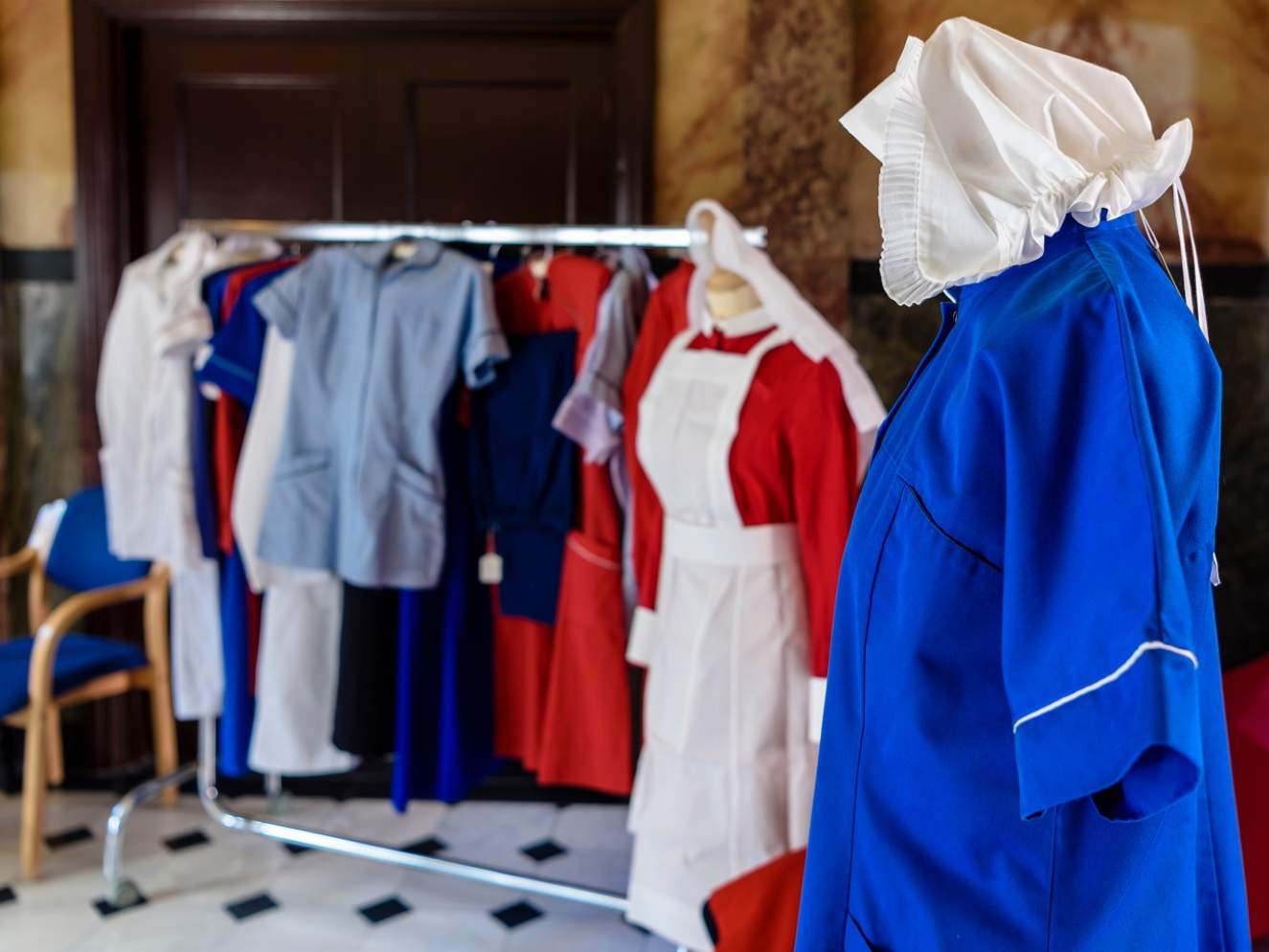 World Health Day marks the day when we come together to celebrate the work of our nurses and midwives and in this, the International Year of the Nurse and Midwife, there has never been such a poignant time to show support to those at the forefront of the profession.
Dimensions is proud to support those on the frontline and wanted to take the opportunity of World Health Day to thank all healthcare workers for being our heroes and, take a moment to look back at the nursing profession and discuss how it has evolved to become what it is today.
When we think of nursing, our first thoughts are of Florence Nightingale; the lady of the lamp who shone her own light on the profession in the 1800s. Known as the pioneer of modern nursing, 12 May 2020 will be the bicentenary of Florence Nightingale's birth. An advocate for infection control, she worked tirelessly during the Crimean War to reduce the numbers of soldiers who were dying from illnesses caused by poor standards of cleanliness.
Overall, Florence and her team reduced the death count by two-thirds and on her return to England, Queen Victoria rewarded her with the "Nightingale Jewel" and a prize grant from the British Government. As such, in 1860, she funded the establishment of St. Thomas' Hospital, and within it, the Nightingale Training School for Nurses.
Whilst it is undeniable that Florence Nightingale was the founder of modern-day nursing, some believe that her statement "every woman is a nurse by nature", may have had a long-term unintended consequence; the result of which is that less than 11% of nurses are men.
According to the Royal College of Nursing, this wasn't always so: "a millennia ago it was the norm for men, albeit under monastic orders, or in a military context, to provide care for the poor, sick or the injured. The role of men providing such care continued for the next six or seven centuries. Yet in present day, when gender balance is widely embraced in many professions and receives regular positive publicity in the media, the number of men who enter the nursing profession appears to have changed little since the beginning of the noughties."
Prior to the foundation of modern nursing, nuns provided care to the sick and injured, and when the first nurses took over caring for patients, their uniforms were very similar to a nun's and were indeed based on the nun's habit.
Before Florence Nightingale set standards, nursing was seen as a lower class occupation and not a profession for ladies. Nurses were mostly untrained, often drunk, and hospitals were squalid.
Nightingale was determined to change this perception and insisted that a uniform would go some way to address this, as well as command respect from both patients and doctors; she believed that "a clean uniform was as essential as clean bandages". Surprisingly, Nightingale's uniforms were not white; the nurses wore long grey tweed dresses, matching wool jackets, and plain white caps.
It was one of Nightingale's students, Miss Van Rensselaer, who is credited with designing the first recognisable nurse's uniform, which included a long blue dress, a white apron with shoulder straps, and a white frilly cap that tied under the chin.
Until World War 1, a nurse's uniform didn't change much at all, but during the war it was clear that the style was no longer practical. The bulky aprons began to disappear and the skirts became shorter for greater mobility, meaning that the nurses could be faster and more efficient.
Following the outbreak of war in 1914, the British Red Cross formed the Joint War Committee with the Order of St John and they worked together under the emblem of the red cross that then became synonymous with a nurses uniform. It was important, at this time, that nurses could be easily recognised, so white was chosen for the main body of the uniform with the red cross pinned either to the nurses chest or arm.
During WW I male nurses also served on the frontline, but despite having been trained the same as the female nurses, they were known as "orderlies" and were paid about half of what women were.
In 1919, the Nurse Registration Act was passed which saw legal recognition granted to male nurses, however, men were still put on a separate register to females. During this time nurses uniforms started to become more practical; for the first time uniforms were used to differentiate between nurse hierarchy.
After WW11, sex segregation of nurse registries came to an end. In 1947, a trial was conducted where four men were selected to be trained as district nurses where they would nurse male patients only. They didn't wear a uniform, but changed into a white jacket when in the patient's home.
In 1948, the National Health Service was founded and nursing uniforms began to change more dramatically than in previous years. Styles included short sleeves and all nurses wore shoulder cloaks; a look that became iconic thanks to much-loved TV shows and films. As the nursing profession grew, there was an increased need for uniforms which could be mass-produced and easily cleaned.
A pivotal point for the nursing profession was in 1960, when men were allowed to become members of the RCN, which permitted them education and employment equity. Their uniform at this time was a simple high necked white jacket.
The 1970s saw the beginning of a change that would span the next two decades where nurses uniforms became much easier to care for, were more practical, and designed to allow more comfort and mobility; disposable paper caps replaced cotton ones and plastic aprons replaced the traditional cotton style. The iconic nurses' belt also disappeared as it was more practical when lifting patients.
Since the 1990s the traditional nurses' uniform has been developed and changed to reflect the role of a nurse, which has evolved from being seen as an unrecognised occupation in the 1800s to one that is now acknowledged as a qualified profession and essential to the modern-day world. Today's uniform of tunics and trousers or scrubs, suits the needs of the wearer, irrespective of age, gender, body shape, job role or other individual requirements and preferences. Available in numerous colours to denote different roles and ranks, today's uniform is easily recognised by patients, relatives and staff, whilst also maintains consistency throughout the healthcare industry, whether that is within the public or private care sector.
However, there is still the issue that only 11% of the nursing population is male. This issue has been recently highlighted by research on "gender disparity at senior levels" and campaigners are urging to see more men recruited. Men Into Nursing Together (MINT) - a campaign group set up by Sheffield Hallam University - has also highlighted the issue by working to combat children's perceptions.
Here at Dimensions, we are also committed to raising awareness of the nursing profession and influencing our younger generation with their career choice. We have been part of a pioneering team who have been working on an innovative project to widen recruitment to the profession, as we believe that attitudes and ideas are formed as early as primary school and we also consider a child's dressing up outfit to be a key part of this perception.
Colin McNulty, senior nurse manager with NHS Grampian, said: "If you look at a typical nurse's costume for a child, the uniform often comes with a cape and hat, even though these haven't been standard uniform for decades. The tools they have may be limited to a thermometer and a fob watch, suggesting that nurses do little more than take temperatures or measure pulses."
We all know, that the reality of modern day nursing couldn't be further from this, so first impressions that are formed at a young age do matter. As such, Colin approached senior managers within NHS Scotland and also at the Scottish Government to ask if child-sized versions of the national nursing uniform could be made.
Having gained permission, the project team worked with Dimensions to arrange for the miniature, gender neutral uniforms to be produced and the team initially launched the initiative in primary schools in Aberdeen and Edinburgh, with the hope of a future roll out across the UK as part of an ongoing educational programme. The future impact of the project is not yet known, but initial feedback has been nothing but positive.
No matter what the outcome of the project, it is clear that the nursing profession has changed dramatically over the last 200 years to become a diverse and empowered profession and it will continue to grow into an even more important aspect of the health care industry within the years to come.
So, on World Health Day, we wanted to follow in the footsteps of The Lady with the Lamp and shine a light on the nursing profession to thank all those on the frontline now and in the future, irrespective of gender.
"Dimensions is proud to support those on the frontline and wanted to take the opportunity of World Health Day to thank all healthcare workers for being our heroes"