Sustainable Solution to Plastic Pollution
Posted on 18 November, 2020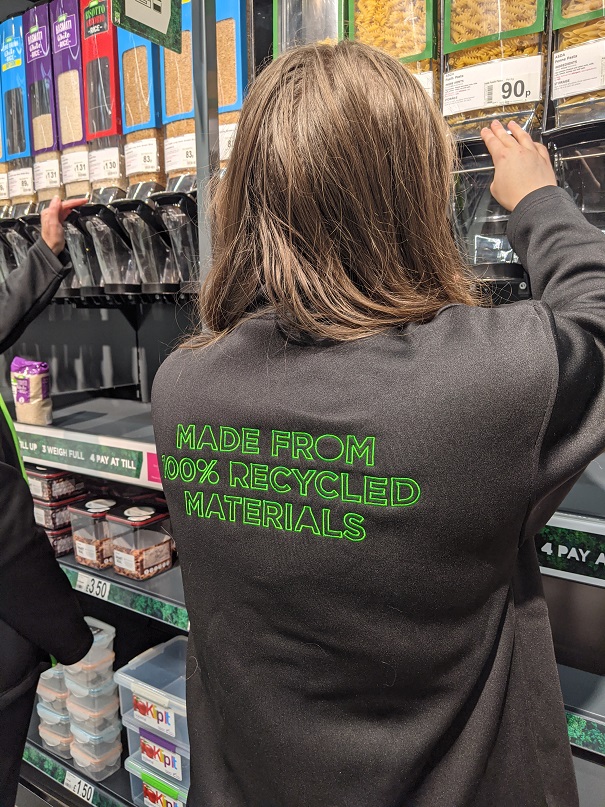 Today, single-use plastics account for 40% of the plastic produced every year, with some taking over 400 years to biodegrade. Around 70% of all litter in the sea is plastic and it is estimated that the amount of plastic in the sea will treble by 2025.
Asda has recently showed their commitment to tackling plastic pollution and helping their customers to reduce, re-use and recycle by launching their first sustainability trial store in Middleton, Leeds. Dimensions was delighted to help make Asda's project a reality by providing colleague uniforms made from 100% recycled material.
Commenting on the project, Hayley Brooks Dimensions' Managing Director said: "We were delighted to be able to support Asda's Creating Change for Better programme by providing uniform for their first sustainability store.
We are excited about using this innovative sustainable solution as it not only prevents plastic from going into landfill, it reduces our use of petroleum as a raw material for our fabric requirements, and therefore lowers our overall carbon footprint."
Dimensions is eagerly waiting for the feedback about the uniform from the colleagues at the Middleton store because if the garments are well received, Asda will roll these out as standard which is a potential saving of over 30 tonnes of plastic a year!
Suzie Hardy, Asda's Sustainability Manager for Plastic & Packaging said: "We know that sustainable fashion and garment sourcing is something which our customers and colleagues are really passionate about and it's why we have really focussed on George for Good in Middleton, which highlights our sustainable sourcing commitments. It's fantastic that we've been able to go one step further from being able to offer sustainable garments through George and with the support of Dimensions, our colleagues are now wearing uniforms made from 100% recycled materials, it really confirms our commitment to sustainability across all part of our business and operations".