Y is for Yarn
Posted on 07 January, 2019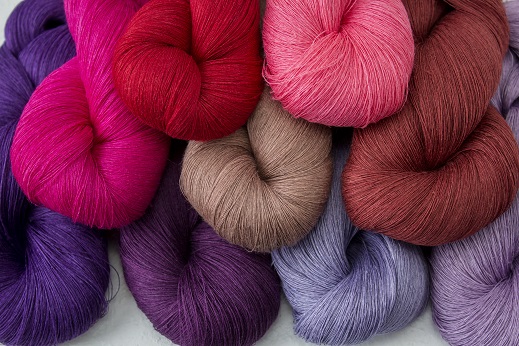 Yarn is a long continuous length of interlocked fibres, suitable for use in the production of textiles, sewing, crocheting, knitting, weaving, embroidery, or ropemaking. Thread is a type of yarn intended for sewing by hand or machine.
Yarn can be made from a number of natural or synthetic fibres and there are two main types: spun and filament. Spun yarn is made by twisting staple fibres together to make a cohesive thread, or "single."
Filament yarn consists of filament fibres (very long continuous fibres) either twisted together or only grouped together.
Twisting fibres into yarn is the process called spinning, which, like weaving, can be dated back to the Upper Paleolithic, and yarn spinning was one of the very first processes to be industrialised.
Yarn may be used undyed, or may be coloured with natural or artificial dyes. Most yarns have a single uniform hue, but there is also a wide selection of variegated yarns:
Heathered or tweed: yarn with flecks of different coloured fibre

Ombre: variegated yarn with light and dark shades of a single hue

Multicolored: variegated yarn with two or more distinct hues (a "parrot colourway" might have green, yellow and red)

Self-striping: yarn dyed with lengths of colour that will automatically create stripes in a knitted or crocheted object

Marled: yarn made from strands of different-coloured yarn twisted together, sometimes in closely related hues

Yarns combining synthetic and natural fibres inherit the properties of each parent, according to the proportional composition. Synthetics are added to lower cost, increase durability, add unusual color or visual effects, provide machine washability and stain resistance, reduce heat retention or lighten garment weight.
Learn more about fibres by visiting our advice centre.