S is for Six Sigma
Posted on 03 December, 2018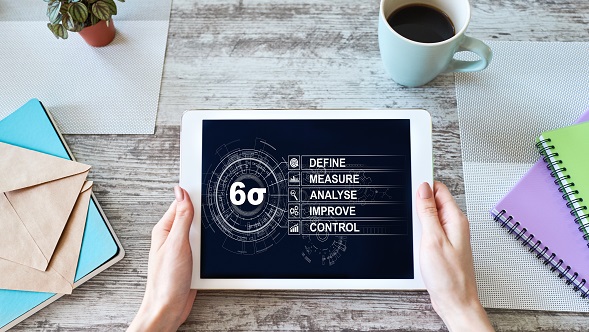 To remain competitive in an increasingly competitive world, businesses must boost operational efficiency wherever possible. However, process improvement can be challenging and to achieve significant and sustainable change, it is imperative that the greatest asset of any business – its people – have the right skills and attitude to implement such change.
MWUK's Logistic Centre, based in the East Midlands, dispatches up to 20 million garments per year for the group's three corporate apparel brands; Dimensions, Alexandra and Yaffy. Covering 630,000 sq ft, the centre is located in an area of growth where over the next 3 to 4 years, there will be 6000 employment opportunities within the East Midlands 'logistics epicentre'.
In addition, much of the labour within the Logistics Centre is from Eastern Europe and having been in the UK for up to 15 years, and perhaps due to the uncertainty of Brexit, some of the workforce are now beginning to return home to mainland Europe or are moving on to higher skilled roles.
So, when faced with the increasing challenge of retaining labour and future proofing the LC's operation, MWUK's Steve Cassapi FCILT, knew that he needed to look at improving processes and had the options of either introducing automation or improve performance of the existing workforce by removing identifiable waste within processes.
Whilst automation is appropriate for certain industries, the complexity of providing a bespoke service to individual wearers, along with lease restrictions and the intricacy of the layout of the buildings, meant that automation could be a part solution, but not a full resolution as the level of service required needs human intervention.
An alternative solution therefore was to look at the existing workforce and get a productivity gain within the existing environment, by getting those 'who do it every day' to identify what could be improved and implement the changes accordingly. Having seen Lean Six Sigma in operation at a printing business, Cassapi knew that the methodology could work in the Logistics Centre and as part of the leadership team, he could drive the initiative and champion the change.
Lean Six Sigma not only reduces process defects and waste, but also provides a framework for overall organisational culture change. Based on the Japanese belt grades, Lean Six Sigma uses coloured belt ranking terminology to define the level and function of Six Sigma practitioners.
Of companies that introduce Lean Six Sigma, a high percentage are unsuccessful as they fail to create a culture that allows every person within the organisation to have a voice, or more importantly they fail because they don't allow these people to be heard.
Cassapi was determined that this wouldn't be the case for MWUK, and as Lean Six Sigma champion, he brought in consultant and trainer, Master Black Belt Dave Hunt, to educate people in new ways of understanding processes and solving problems.
At the beginning of the journey in January 2018, 14 candidates were identified and embarked on an intensive 10 day green belt course. Having qualified, the green belts went into action, but it quickly became apparent that whilst they had passed the course, they didn't realise the key principles and found it difficult to be analytical yet interpersonal at the same time. By using terminology such as kaizen (change for good); gemba (place of action / energy) and kanban (control boards / signals), without complete understanding, was alienating the majority of the workforce and was having an adverse effect.
As such, Cassapi introduced active coaching sessions by the Master Black Belt to reiterate the cause and effect methodology. By adopting gemba walks, operator workshops and prioritising efforts, within 2 weeks over 100 opportunities for improvement were identified.
By creating a structure, which included an in-house continuous improvement team, and delivering the first of four kaizen events (project that can be achieved within 5 days) year one costs of the three-year programme were repaid within two months. By end September 2018, the year one training cost was already repaid tenfold.
To keep the momentum of the programme, a further 12 candidates were selected to be trained to yellow belt standard; all of whom have now been deployed onto projects. In addition, to ensure that everyone understands the structure & goals of Lean Six Sigma and in order that the culture can be truly embedded into the organisation, it was decided that everybody would be given the opportunity to achieve their white belt.
Within days of the white belt training, the terminology was adopted and process issues were being reported to yellow and green belts, with some team members asking for additional training so that they could achieve the advanced black belt status. 400 opportunities for improvement have been identified and each one has been prioritised by project, irrespective of who suggested them.
When asked about the Lean Six Sigma programme, Cassapi said: "I am delighted that I have been able to create an environment that allows people to express themselves and try change. We have no hierarchy at the LC, it's a very open culture. I strongly believe that we should allow everyone to have a go at something regardless of job title or "rank." Everyone should have an equal voice and be inspired to put forward ways to do things more ethically or more productively.
Lean Six Sigma is perfect for those who work hard, but don't necessarily get promoted through the business as positions may not be available. With Lean Six Sigma, any white belt who works hard and adopts a self-learning approach can achieve black belt status."
With an ambitious three year plan which will culminate in a complete organisational culture change, Cassapi is positive about the future: "With the increasing challenge of retaining labour and future proofing the LC's operation, it was important that I looked at what would make a great place to work an even greater place to work.
Yes there is a risk that you create great people who may wish to move on, and retention is the key to our success. However, I believe that as long as the basics such as reward and recognition are competitive, then the added extras that Lean Six Sigma gives us, such as an environment that encourages fun & active participation and the opportunities to engage in projects through workshops or kaizen events, will make us the employer of choice within the 'logistics epicentre' and give us the competitive advantage."
When asked "What's next?" Cassapi said "The evolution of Lean Six Sigma never stops. We need to build on the solid foundations we have created. So, the next year will be focussed on building capability within the LC and ensuring everyone has a voice and the opportunity to make this facility the best it can be. Persistence, patience and practice are required to truly change the culture of a business."
So, how could your company benefit from using Lean Six Sigma? ... Your company could be an organisation that can implement change, develop and grow to remain competitive in an increasingly competitive world.