My story so far…Nick Hill
Posted on 12 November, 2018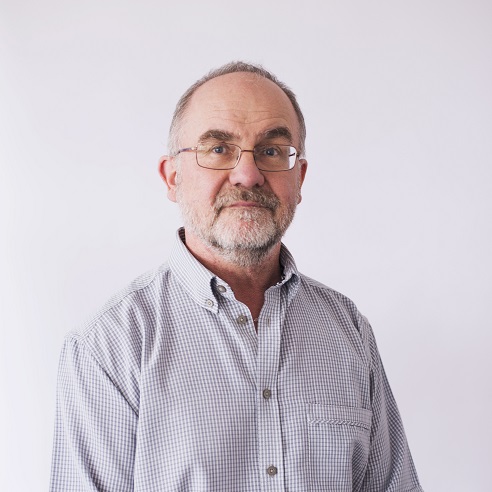 ★ Tell me about your first steps into the world of work….
When I was at grammar school I wanted to go to university to study journalism; the introduction of comprehensive education in Stoke on Trent schools scuppered that, so I joined the RN instead, at 16. Between school and the Navy I worked in factory for £4 a week. My first wage in the RN was £7 a week. I spent the next 25 years in the Navy serving on various ships (including two aircraft carriers), air stations and other bases in the UK and abroad before 'retiring' in 1997 as a Chief Petty Officer in the Fleet Air Arm. I then spent over ten years in security printing with Derby-based Bemrose before the company collapsed in 2010: I came here as a 4 week temp 7 years ago.
★ Tell me about your role now….
As the Customer Service Administrator I get involved in all of those roles which affect the department as a whole; as well as acting as departmental 'champion' in various projects, Your Voice, Continuous Improvement, etc.
★ What are the biggest changes you've seen in the last 30 years in the workplace?
The world of work has changed out of all recognition since I first started (a little over 30 years ago). Back then manufacturing was still a big employer in the UK; most working class people worked in factories (or did office work if you were female) to which (if they were young people) they travelled by bus, by bike or on foot – car ownership was largely out of the question for most young people. I remember watching hundreds of dockyard workers cycling out of Portsmouth Dockyard at the end of their shift. Disposable income was much lower, as were people's aspirations – working conditions could be poor, dirty, tiring (and hazardous). At my first place of work we had a personnel (HR) department consisting of one (man) who worked part-time, whose main role was to walk around looking for excuses to sack people.
★ What do you think the next 30 years holds for your sector, what do you think the biggest changes will be?
Call centres will disappear, staff will work from home, logging into work at their convenience. Home deliveries will be at a premium, items will be delivered to drop boxes unless a surcharge is paid.
★ What's your favourite memory of the workplace from the last 30 years?
Seeing flying fish for the first time.
★ If you could go back to the start of your career and offer yourself one piece of advice what would it be?
Three things:
Remember – Wherever you work, you are being paid the minimum the market will bear, not the maximum – make your career choices with that in mind.
Education, education, education – Tony Blair said it, but true nevertheless. Take every course or training opportunity you are offered – it might be the key to your future.
Always put in for promotion – someone has to be in charge, and do you really want to be told what to do by the person sitting opposite you?
★ Three interesting facts about you:
Landed in Port Stanley by landing craft in 1982.
Travelled back from the 2007 RWC with Gavin Hastings, British Lions rugby captain
I am a parkrunner.