My story so far… Richard Conti
Posted on 25 September, 2018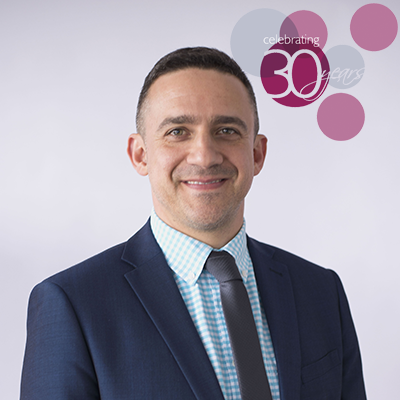 ★ Tell me about your first steps into the world of work….
I went straight into the world of work on a part time basis at the age of 13! My parents ran a successful restaurant, being a family business it meant that everyone had to muck in, so they brought me into the business at a young age and my dad trained me up to be a silver service waiter. It helped me get to grips with talking to customers and I got an insight into the world of work, however most of my rewards were love and a bit of pocket money! After that my next job was working at WHSmith in the music and video department when they used to sell CD's and VHS videos… I'm showing my age here!
I was doing my GCSE's when I decided I wanted to go into IT, I was okay as a user of computers but I didn't have a great deal of interest about what goes on inside computers. Having being brought up in hospitality, I realised I could use my skills with using technology and my customer service skills to really help people and make the lives easier.
I then went on to Sheffield Hallam, I studied Business Information Systems - which is kind of a business and IT mix. I was there for 4 years and had a year out on a work placement, at the Department of Education and Employment in Westminster. I lived in London for a year, then moved back to Sheffield where I achieved my 2:1!
Then I started my computer career as an Applications Support Analyst for a finance and accounting package. I did that for about 3 years, then I moved to Stafford Council which was my first job as a Business Analyst, supporting the new e-government agenda. One of my first pieces of work in 2004 was getting births deaths and marriages online on a CMS.
Whilst I was there I managed to move to a quantity surveying company called Davis Langdon in Birmingham and I was there for 6 years. I started as a Business Analyst then managed all of the internal IT engagement to keep the IT team aligned with the business and running smoothly. This role also introduced me to SAP and in particular the CRM and HR modules.
★ Tell me about your role now….
I started as Head of Business Systems, I came in to manage the day to day operations of order processing, financial and warehouse management systems. I did that for 3 years then I moved into the Software Development team. My title is Head of Software Development, and it's a title I'm proud to have.
When I came here it was a very small IT team, and we were always being reactive and fixing problems. We started looking at why things go wrong and being more proactive which led to us employing our first Business Analyst, Lee! He was paramount in looking at our processes and finding solutions to existing problems, and over time we started to change our view on the way we do things. We realised it's not always about the quick approach, it's about the right way for us and the customer. That one business analyst is now a team of 7!
I think what's interesting is that I'm Head of Software Development but I have no coding experience. This might strike you as a little strange, however I can assure you that it works perfectly. I work with a fantastic experienced team of Developers and Software Testers, and I'm there to manage the team and the relationships with the business. I have implicit trust in my team that they will deliver quality code time and time again.
We have mutual respect, my team trust me and I trust them, when challenges arise, they know they can rely on me to find a way forwards. My ethos is that I work for my team, my team don't work for me. I'm there to remove the obstacles that stop them from doing their job. I focus on the pressure points and try and alleviate them. Of course, I do take a bit of ribbing for my 'South Staffordshire' accent and lack of coding skills!
★ Proudest achievement at Dimensions?
It has to be the way in which DUOS has evolved into 'Detail' – DUOS was once an 'optional extra channel' for our customers to transact with us. It is now known as 'Detail' and it really is the jewel in the Dimensions crown! Detail is a fully bespoke solution, developed over 10 years by both people who really understand our business, and most importantly, continuous feedback from our customers.
Customers love it, the feedback is phenomenal! Detail is hosted in the Microsoft Azure Cloud, to maximise availability and reliability of the ordering system to our customers. Our Managing Director Hayley keeps me very busy each year with customer feedback! Detail was even shortlisted for a national award this year which we were very pleased with indeed! We're all so proud of the product we've created and it's awesome to me.
This year has been a great year for me personally too. I was awarded 'Product Manager of Year' at the Digital Technology Leaders Awards in London. I am very proud of this award and it's just another direct reflection of the team of people I work with at Dimensions, who are so passionate about what they do.
★ What are the biggest changes you've seen in the last 20 years in the workplace?
Security and privacy is the biggest change over the last 5 years, it's in the news more and more now. There is a real appetite for using technology at Dimensions which is why I love this place! Although sometimes I do have to put the brakes on a little to ensure the wheels don't come off, especially when it comes to security and privacy!
I also think the way that websites have advanced, you can do anything anywhere now on any device. Websites have exploded in functionality and accessibility, and sadly we've seen some retail decline because of it. Detail is a Business to Business (B2B) site, but we have to strive to be more like the giants such as Amazon as that's what people are used to now and expect from websites.
★ What do you think the next 30 years holds for your role, what do you think the biggest changes will be?
I think the internet of things is going to be the biggest thing. AI is already massive, talking to technology such as the Alexa is a huge thing and I think it will only get bigger. I think in our industry smart garments will be huge. The technology will actually be in garments to measure how garments are wearing, if they're keeping our wearers warm and how many wash cycles they've been through before their end of life. It'll enable us to work smarter and produce better and better garments.
★ If you could go back to the start of your career and offer yourself one piece of advice what would it be?
I can definitely answer that question but let me give you some context first.
I want to take you back to when I was 9 years old and it was the start of the new school term. A new classroom, a new teacher (and a scary one at that!). Little did I know that the scary teacher would become a lifelong friend and 'second mum' to me, and she has guided me through life ever since with wise advice and I respect her immensely. She knows I tend to worry about things a lot, and she gave me one bit of advice which as stuck with me:-
"Worry about only the things you can do something about. If you can't do anything about them, then accept that they are a fact of life and move on."