My story so far… Richard Bimson
Posted on 31 August, 2018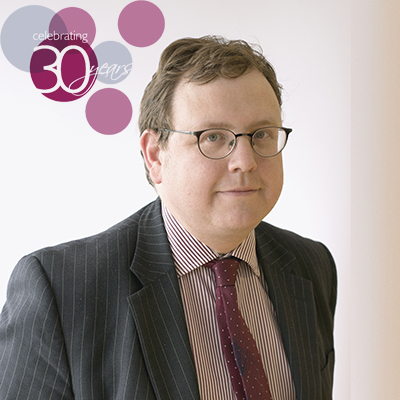 ★ Tell me about your journey into the world of work so far….
I studied at Durham University and read Law, 17th Century History and Church Law. After I graduated I was employed on a 3 week contract to do data cleansing with DCC who were later bought out by Dimensions. 15 years later I'm still here! I never quite knew what career I wanted to get into, I wanted to be a lawyer but it didn't quite work out, but the logical thinking I used at university has definitely helped me in the workplace.
★ Three interesting facts about you:
I am a keen bellringer.

I do not own a television as I do not have enough time to watch it.

I left Europe for the first time this year! I went with work to America to Houston and New York to explain the new PLM system. I was rather underwhelmed by Times Square.

★ Tell me about your role now….
Although my job title is Supply Chain Analyst, I do seem to get pulled into a lot of other projects. My main role is analysing our supply chain processes in relations to the systems and I have spent the last 2 years implementing a new product lifecycle management system, Vision Next Gen. This helps us manage our pre-production critical path to help us have greater visibility of our product development lifecycle and eventually it will give us a full end to end visibility from design concept to the delivery of garments. I enjoy my role and I enjoy helping my colleagues with any problems that may arise, I relish the challenges of the role and applying myself to problems. I enjoy the company culture, it's more than just a great place to work, it's a great place to be.
★ What are the biggest changes you've seen in the last 30/20/10 years in the workplace?
The increase in garments supplied from the Far East. When I started at DCC, we had a fabric and a trim store we had production in Europe. Also, the widespread use of email! When I first started at DCC we would print out our orders, and rather than going directly they would have to be printed, scanned and then sent. Another massive change in the workplace for me would be when DCC was bought out by Dimensions, it was a very challenging time, firstly to move data around to new systems from old systems and merging, and secondly it was very emotional to say goodbye to colleagues I'd worked with since leaving university.
★ What do you think the next 30 years holds for the industry, what do you think the biggest changes will be?
I strongly expect that the wearer will want the same experience when shopping for retail as they will when ordering their workwear. I also think that there will be more consumer awareness of the supply chain, and a greater need to show the transparency to the wearer, not just the buyer. All this will be combined with more pressure for faster sourcing.
★ What's your most memorable moment from the workplace from the last 15 years?
A more recent moment would be celebrating the success of the last thirty years at the #DimensionsPearl conference. There's also a lot of charity events that stand out to me, one in particular that I can't say in this interview but staff members will remember it, especially Richard Conti!
★ If you could go back to the start of your career and offer yourself one piece of advice what would it be?
"Persevere and don't let the current problem undermine your achievements this far"