My story so far… Martyn Roberts
Posted on 13 September, 2018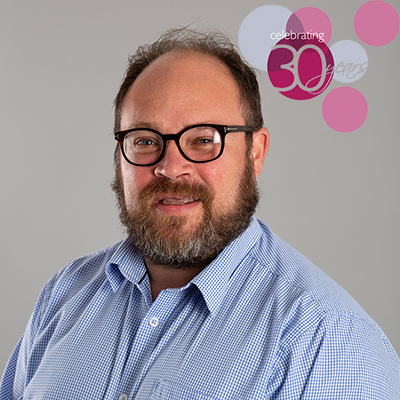 ★ Tell me about your first steps into the world of work….
I left school at 15 as my birthday is in August, I did pretty well at school and got 8 GCSE's and we were the first year to do them in 1988. I didn't really know what I wanted to do, so I worked for a big financial service company in their customer service department, and I kind of fell into training.
I'd been in the business about 10 years, and because I'd been there so long they sat the new people next to me when they started and I'd teach them not just how to do things but why to do things and that approach made me different to other people.
I then went on a 9 month secondment to the branch in Swindon where I delivered inductions every week. I learnt so much about being a good facilitator in this role. When I went back to my usual role, they unfortunately couldn't give me a full time job in L&D, but I did some work on their values launch for about 1000 people.
I then got offered a job in a building society as a training facilitator and when I handed my notice in I got offered two more positions in my current company! I knew I needed to move on so I turned them both down. I spent 2 years in the building society as a Learning and Development Facilitator supporting training across all the branches, it was great fun and I really enjoyed it! When the Learning and Development Manager left, I applied for her role and took it over. It was a managerial role over 7 people and I thoroughly enjoyed it. Unfortunately the business got bought out and I was made redundant in 2012.
I moved onto the Wildfowl and Wetlands Trust, it's a national charity founded in 1946 by Sir Peter Scott. Peter Scott was the son of Antarctic explorer Captain Scott who, in his dying letter, urged Peter's mother to "make the boy interested in natural history." I was the Learning and Development Manager there looking after 9 centres across the UK. I had a fantastic few years there but then the time came to move on.
I then went to be Head of Learning and Development at Gloucester College which was great! I learnt so much, especially how to manage a budget! But the challenges of working at a college were very difficult, I wanted to make a larger impact than I could and it was frustrating. I then got approached by someone from Alexandra that I'd worked with at the Wildfowl and Wetlands Trust and applied for the role of Learning and Development Manager in 2015.
★ Tell me about your role now….
My role is so varied you wouldn't believe! I think for me that the variation was part of the appeal of coming here. There'd never been a formal L&D role in the business so I had so much scope on what I could do. What do I do on a day to day basis? Everything! I get involved in everything! I look after inductions and team away days, management development. I created and designed the Evolve content and programme, I manage the L&D budget, organise the relationships with 3rd party trainers, last year we introduced the e-learning portal. This year the NVQ's were completed in the customer service department, it's a mad job but I love it!!
My favourite part of my job is seeing that lightbulb moment when people connect to an idea or concept. That's why I do what I do!
★ What are the biggest changes you've seen in the last 30/20/10 years in the workplace?
I'd say the biggest change since I started 20 years ago is the pace, and the role has become more than training. It's more of a massive shift towards business change, cultural change, and encouraging people to think differently. Before it used to be about teaching someone to do something and now it's about the people, and their thought process.
I think now everything needs to be quicker, more reactive and land with a bigger impact. People expect more learning and development than they used to, which is great! I think people are now proactively looking for jobs with opportunities. It's great that people see the importance of progression and development. It's a key part of what people look for in a job now.
★ What is your proudest achievement?
I would say the Evolve celebration event back in May, it crystallised everything that L&D is about. People that had been on the programme stood up and presented to the executive team of MWUK about their personal learning journey, I felt like a proud Dad at a nativity play! Those presentations were so honest and heartfelt, and I sat there and thought if I've helped contribute to these people's lives just a little bit, then this is just mind blowing.
★ What do you think the next 30 years holds for your role, what do you think the biggest changes will be?
I think there will always be a need for personal interventions with learning and development. Although we're online with apps and tech we've gone from products and processes to more of a rounded development plan. We've recognised now that people are individual and learn in different ways and I don't think any form of AI will replicate that.
People are more in touch and more open and honest. I think training will be much more bespoke with more counselling and coaching rather than being spoken at in a classroom. I think we'll go 180 degrees and social media will become less as people crave more personal interaction. I don't think people will have the luxury of sitting in a classroom all day so I think there will always be a tech side of it and there will always be a need for L&D, but I think it'll be more fluid in how it works and supports people.
★ What's your favourite memory of the workplace from the last 30/20/10 years?
Going back to the mid 2000's we had a charity day at the building society and we all dressed up as school kids and we had a tuck shop and 80's music, it was just such a laugh. I've still got the photos! It was things that like that make the workplace a good place to be. You should never stop having fun at work!
★ If you could go back to the start of your career and offer yourself one piece of advice what would it be?
I would say have the confidence to believe in what you can achieve and don't let others dissuade you from what you want to do, you only get one chance!
★ What advice would you give to someone starting in L&D?
Don't take yourself too seriously, really take your time to get to know the people that you're going to be developing. To be good in L&D you just need to have passion in what you do.
★ 4 interesting facts about me:
★ I used to run a cafe in Stroud! I'm a trained barista, I can make an amazing cappuccino or latte!
★ I worked very briefly for Royal Caribbean cruises as a L&D Manager. I had to do a training presentation via Skype!
★ I never traveled until I was 24, and then I did 6 flights in 2 weeks! My first flight was a long haul to Hong Kong, I got on the plane and wondered if I'd even like flying!
★ I've done New Years Eve in Times Square! It was -20 and we were stood outside for 8 hours!