My story so far… Ken Wright
Posted on 10 September, 2018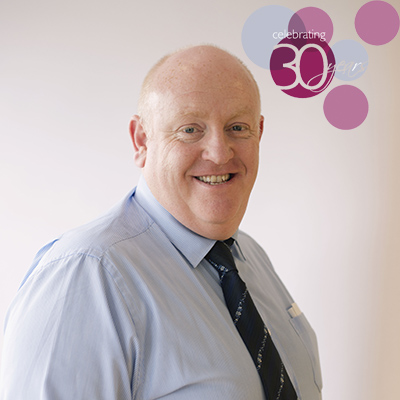 ★ Tell me about your first steps into the world of work…
My first job was a petrol attendant at a petrol station and I got paid 45p an hour! I used to make more from tips than I did my wage. Then whilst I was at college I worked as a ride operator at Alton Towers!
I worked at a company called Courtaulds Jersey for 10 years, I started out as a knitter then moved into the Warehouse then moved to become their planning manager, I then I moved to Daleside Dyers, I was the production manager then became the Managing Director.
As time moved on, so did I and I moved to a textile merchants in Manchester, and I was travelling to India to get their fabric production up to the UK required standard. I then set my own business, Wright Fabrics LTD and I was a consultant to high street retailers and also supplying fabric and garments to them too. My clients included M&S, Next and Tescos.
Unfortunately the economic crash in 2007 meant consultants weren't a high priority on budget lists at a time when businesses were cutting back their expenditure. I battled on but was eventually forced to close.
★ Tell me about your role now….
My role is working for MWUK, so I work with Dimensions, TwinHill, Yaffy and Alexandra. It's a job that certainly keeps me busy! I manage a small but brilliantly talented hard working team of Fabric Technologists.
In layman's terms, my job starts right from the concept and design stage of new garments. I then source the fabric and ensure it fits the design brief the customer has set in regards to style and performance. I travel regularly to all of our fabric suppliers this includes China, India, Pakistan, Bangladesh, Vietnam, Taiwan, plus across Europe and UK. I like to keep my finger on the pulse of innovation so I attend all the major textiles shows such as Premier Vision in Paris and Intertextile in Shanghai.
I enjoy most of my role, but I think the highlight is seeing the project come to life from an idea to a project then seeing them being worn is fantastic.
★ What are the biggest changes you've seen in the last 30 years in the workplace?
The biggest difference is that the globe is smaller. We think nothing now of sourcing things from Bangladesh or India. When I first started in the textile industry the yarn was spun in the UK, knitted in the UK then dyed and finished in the UK. I think global manufacturing and sourcing is a positive, but I think it's also negative because of the consequences to the UK manufacturing.
★ What do you think the next 30 years holds for your role, what do you think the biggest changes will be?
I think the biggest changes I'll see in my role will be the introduction of Technology. This will be smart fabrics and wearable technology, by this I mean within the garment. We already have watches and accessories but I think in the future technology embedded in the fabrics will be much more commonplace. There's already fabrics that can monitor your blood pressure and heart rate and it will only get more technical over the next 30 years.
★ What's your favourite memory of the workplace from the last 30 years?
My favourite memory was being part of the project team that won a major UK airline contract. The team worked for 12 months, tirelessly developing products and innovative fabrics and when we found out we'd won the whole business was elated. To be a part of that was fantastic and it's a memory I'll always look back on fondly.
★ If you could go back to the start of your career and offer yourself one piece of advice what would it be?
"Don't worry about what your results are, just because you didn't get the results you wanted doesn't mean things won't work out. There's other routes you can take but things have a way of working themselves out."
★ One interesting fact about you:
I'm a keen chef and I have cooked with both Jamie Oliver, Gennaro Contaldo on two separate occasions! I was at the Good Food show and got selected from the audience. I've also cooked with Mary Berry and Paul Hollywood!