My story so far… Julie Dowman
Posted on 04 September, 2018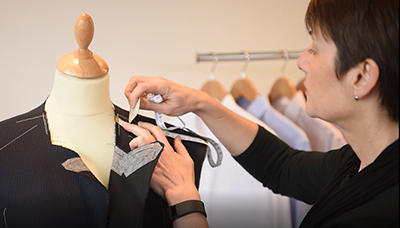 ★ Tell me about your first steps into the world of work….
When I was 15 I had a weekend job working in the newsagents, I used to get my wages in cash in an envelope, I think I got paid around £5 a day, and I could fill up my moped for 50p a week!
From there I went to college and studied art and design, I didn't know if I wanted to do textiles, fashion, ceramics or graphics. I ended up studying at Manchester University, reading Fashion and Textile design. My dissertation was exploring the reasons why M&S hadn't yet launched an eco friendly range of clothing, it's something I've always been passionate about. I chose M&S as I was fortunate enough to do a work placement in my last year for an M&S supplier, they were very impressed with me and offered me a job before I graduated!
After a few years in the industry, manufacturing began to move offshore and the quality began to decline and I began to question why I was in an industry that was churning out fast fashion that was bad for the environment.
I decided to look outside out of the industry and I did my TEFL teaching qualification, once I'd finished the qualification I was offered a job in Greece teaching! I'd always wanted to travel and I thought, why not?! So I went to teach English in Tripoli in the Peloponnese mountains on the Greek mainland. I absolutely loved it!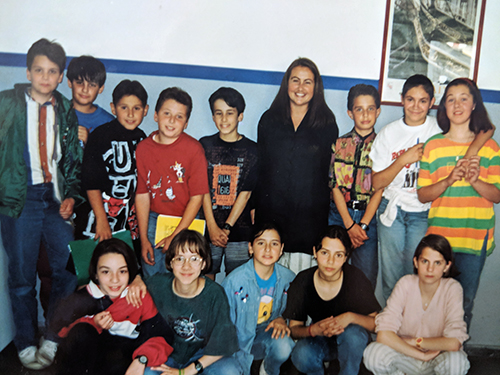 I then travelled around the world travelling to the likes of Malaysia, Vietnam, India, Australia, New Zealand, the Philippines, I finished in Mexico where I taught Art and Design.
I was about 30 when I thought I better get my career back on track and returned to the UK. I got a job at a company called Alexandra, they were a catalogue company but they'd just started a corporate arm. A particular highlight was working with Bruce Oldfield on the Burj Al Arab project and we designed and supplied uniforms for the staff there – the sky was the limit with no budgetary restraints. It's funny because at that time Dimensions and Alexandra weren't sister companies and Dimensions were viewed as a competitor.
★ Tell me about your role now…
I was approached by an agent to come for an interview at Dimensions after I'd left Alexandra, I had been planning on doing teacher training but quickly changed my mind! I came up and met with Barbara Tomczak and I came in as a Senior Designer; there was just three of us! At that time presentations were all drawn by hand. We didn't have as many accounts, so although it sounds like it would have been harder, we had less accounts so the demand for our skills wasn't as stretched. The pressure kicked in when the client wanted reworks, the presentations had to be started from scratch. I am now the Head of Design and I have been for a number of years. My role now is developing ranges for current customers that are both innovative and stylish as well trying to win new business looking at new areas we can expand into.
★ What are the biggest changes you've seen in the last 30 years in the workplace?
As we've grown as a business there's a lot more faces in the business to try and remember!
We've also seen quite a few big household names collapse such as Woolworths, MFI and Abbey National we've seen a few businesses merge too such as Sainsbury's and Argos, and Dixons and Carphone Warehouse.
I also think over the last few years getting clients to make a decision is a slower process. Customers now have more choice and appear nervous about making the wrong decision. This often means once the decision has been made our critical path is somewhat condensed, putting everyone's capabilities to the test much more than it used to.
★ What do you think the next 30 years holds for your role, what do you think the biggest changes will be?
I think one of the biggest changes will be around sustainability. I think the government will put more pressure on the textile industries to provide sustainable solutions, whether that is at the factories the garments are being produced in or at the end of a garments lifespan. 85% of clothing ends up in landfill, and I think the industry needs to address that. Designers will start to design knowing the loop for their product will be closed.
★ What's your favourite memory of the workplace from the last 30/20/10 years?
We went to a Sainsburys event years ago, and I hadn't known at the time but one of the speakers was Steven Redgrave and at the time I was rower so it was fantastic listening to his life journey!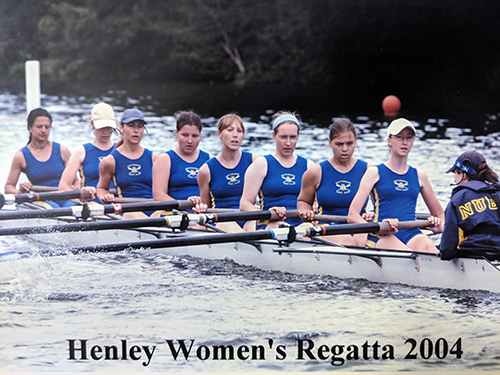 ★ Being in the Winning Team of our Three Peaks Challenge was also definitely a highlight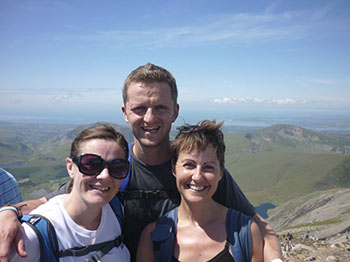 ★ If you could go back to the start of your career and offer yourself one piece of advice what would it be?
Probably not too worry so much, you don't know what's around the corner, and doors will always open; it's up to you to decide whether to go through them or not. You need to have the confidence to step through the door and follow your heart.