My story so far… Deborah Gobey
Posted on 15 October, 2018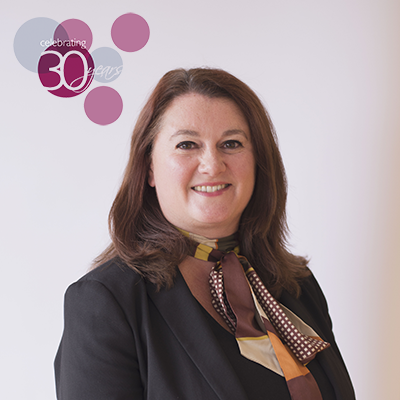 • Tell me about your first steps into the world of work….
I didn't follow the traditional route that my friends took of studying A-levels and then doing a degree at university; mainly because I didn't know what I wanted to do! Instead I started work at 16 on a Youth Training Scheme which is similar to today's Apprenticeship. I worked for British Midland (BMI as they then became) and studied Business Travel at college as part of the scheme.
Overall, I was at BMI for 9 years and worked in various departments including customer services, cabin services, cabin crew training and latterly marketing. It wasn't until I was offered a secondment in marketing that I realised that was the career path that I wanted to follow.
I studied for my CIM (Chartered Institute of Marketing) qualification and over the next 20 years, I gained experience managing the marketing for some well-known household brands, journeying through a number of industries where I also gained knowledge of various sectors including travel & tourism, retail, skin care, home interiors, healthcare and intimate apparel.
• Tell me about your role now….
In 2016, Dimensions introduced a marketing function and my role was created to lead the planning and implementation of all marketing activity for the Dimensions brand, from lead generation through to customer acquisition and retention.
My team works across multiple marketing disciplines and this enables us to bring challenges to life to offer creative solutions. I am very proud to head up a group of people who are not afraid to challenge the status quo and believe that innovation is the key to our success.
There is no such thing as a typical day in Dimensions' marketing department and that is what I love about my role - every day is different!
• What are the biggest changes you've seen in the last 30 years in the workplace?
There has been a lot of change in technology in a relative short space of time. When I started work, I used a typewriter not a PC, we had no email or mobile phones and we had to communicate via fax, pager or telex, sales reps would have to call in the office from a phone box and we had a photocopying room that housed a photocopier that was the size of a family car!
Other than technology, I have seen a great change in corporate culture too, particularly equality in the workplace. When I first started work female managers or manageresses as they were called then were few and far between. In my workplace, it was expected that you addressed male managers as Mr Surname; it was frowned upon for females to wear trousers and hosiery was a must with a skirt!
At Dimensions, it is recognised that gender doesn't necessarily refer to male or female and great importance is placed on "people" and we are given the opportunity to grow and reach our full potential regardless of personal characteristics; this is a significant change to when I first started work!
• What do you think the next 30 years holds for your role, what do you think the biggest changes will be?
I think the next 30 years will see even bigger changes than previously and they will happen a lot faster too!
It's already a challenging time for marketing as technology is changing at an exponential rate, particularly with the shift towards voice-activated assistants and audio marketing gathering pace to meet the changing demands of the consumer. It's so important that marketers keep up-to-date with technology, after all it's fair to say that Augmented Reality is no longer seen as a phenomenon; Pokémon Go is already 2 years old!
From a business perspective, I think that Artificial Intelligence will transform a lot of industries and will make certain roles much more efficient. Marketing automation is already out there and is designed to make marketing via multiple channels online more effective, as well as automating repetitive tasks, so the future is surely set to become even more efficient as we hone these tools with our learnings.
I think that as machines become more common place both in the workplace and at home, the human touch will become much more important. Automation will give us the time to focus on building those interpersonal relationships and nurture the complexities that arise when dealing with human beings.
I think it will be an exciting time where we will see business models change and the opportunity to add value to a customer will be like we've never seen before.
• What's your favourite memory of the workplace from the last 30/20/10 years?
I have been privileged to enjoy some amazing experiences. I have travelled to some remarkable places with work; I have eaten in some outstanding restaurants; I have spent time with celebrity brand ambassadors and I have even had a meal cooked for me by a famous Scottish chef at his cook school.
But, my favourite memory is being invited to the Queen's Garden Party in her jubilee year by the Lord Lieutenant of Derbyshire as a thank you for a job well done on a project that we had worked on together.
• If you could go back to the start of your career and offer yourself one piece of advice what would it be?
"Take the risk or lose the chance"
• Tell me three interesting facts about you…
I'm not sure if these facts are interesting, but…I won a BBC writing competition whilst at infant school (or so my mum tells me!); I lived in France for 6 months; I'm a qualified aromatherapist.