My story so far… Andrew Bacon
Posted on 28 August, 2018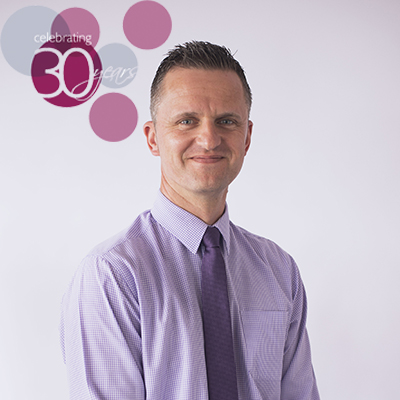 ★ Tell me about your first steps into the world of work….
My first job was similar to an Apprenticeship and was on a scheme called YTS, I was paid £35 a week! I was studying towards an NVQ in Business Management.
I then moved into a customer service coordinator role for a company called CV Branded Menswear who at the time were a part of Coats Viyella Plc, and that's where I met my wife! This was my first role in the textile industry and we sold formal men's shirting into the retail sector.
I then worked for Speedo in Nottingham, and I was part of the customer service team but I was a licensee coordinator for the sellers of swimwear in the global market category. I looked after Dubai, South Africa, Lebanon and Australia, it was my first experience of working with international markets.
My next role was in sales as a sales rep, I was selling industrial cleaning chemicals, machinery and supplies into large organisations in Derbyshire I'd always known the path I wanted to take would be a sales path, but after this role I realised I didn't want to be a true sales rep that had a local patch!
I then started at Dimensions as the New Business Assistant, I was prospecting, making cold calls and doing a little marketing, and it was great to learn everything starting at the bottom.
After 18 months Hayley Brooks became the Sales and Marketing Director and I was promoted to the role of Business Development Manager, I was a BDM for 8 years before I got promoted to Head of Sales and I've been enjoying that role for 4.5 years now.
★ Tell me about your role now….
I would say that my role is very much a project based sell. By these I mean, we don't sell individual items to potential new customers. We sell Dimensions as a service and often we work on projects to really show off the designs and services that Dimensions has to offer. Day to day I manage a small but brilliant team of Business Development Managers. It's a lot of early mornings and late nights but I enjoy the role and wouldn't change it.
★ What are the biggest changes you've seen in the last 20 years in the workplace?
Technology - when I was out in field as a sales rep I didn't have a phone! If I ever wanted to speak to someone at HQ I'd have to stop at a payphone. We used to have pagers and fax machines too!
★ What do you think the next 30 years holds, what do you think the biggest changes will be?
I think in 30 years that technology and AI will evolve quicker than we've already seen and we'll see more automation in the workforce.
I also think that technology will impact the workforce even more and distribution will be a very good sector to be working in, as we become a country that manufactures less but imports and exports and distributes more. I think online shopping will evolve further, with users being able to try products on through AI, therefore no need to even go out shopping! As a result town centres will be more social places rather than shopping.
★ What's your favourite memory of the workplace?
My favourite memory is when I worked for Coats Viyella Plc, On a Friday we used to finish work and there would be a large proportion of the workplace that would go to the local pub and this group of people became very close friends. Back then the majority of people lived very close to their workplace whereas today more people are commuting into work it would be difficult to do now.
★ If you could go back to the start of your career and offer yourself one piece of advice what would it be?
The grass isn't always greener! Everything will work out in the end, but try and make good decisions.