My story so far… Wendy Cooper
Posted on 20 August, 2018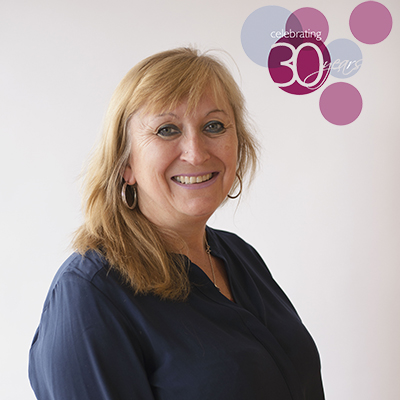 ★ Tell me about your first steps into the world of work….
I left school at 15 having taken 9 O levels, I was brought up in a town that was renowned for hosiery and knitwear so having left school at 15 with no real idea of what I wanted to do I spent the first 5 years working in a number of factories and went to night school to do RSA Typing and Bookkeeping courses
In 1988 I'd finished at college and an opening came up for a receptionist/typist at a local shop-fitting company. I spent 7 years there and worked my way up to be the Personal Secretary to the Managing Directors… most of this time was before computers had become standard, there was lots of paperwork and lots of filing!
I took a leap of faith in 1995 and moved to work for a Peugeot dealership and practically doubled my salary overnight! I was PA to the General Manager, as well as looking after Customer Service enquiries and helping the Sales team with their marketing this is where I started learning how to use Powerpoint for creating posters and such. After 5 years I got poached by Peugeot head office and I worked as a PA for the Operations Manager of Strategy, running the national employee lease car scheme and managing the BT Fleet account for provision of their vehicles. I stayed at head office for 2 years, before moving back into a dealership in Birmingham as Acting Marketing Manager, however this was when the M6 toll road was being built (2002/3) and it often took me up to 3 hours each way to get to work!
With my father's ill health I decided to move closer to home for a while and did some temping work for a year or so with a few local companies before joining Remploy in 2006, looking after anything up to 5 Directors at a time, before ultimately moving into the IT team as PA to the IT Director and enhancing my skills further by doing a Prince 2 Project Management course, among other things.
With the closure of part of the Remploy business, redundancy came in the autumn of 2013 and I then decided to take a career break, as I'd never had one before, we had a fantastic time, cruising the Caribbean, visiting Paris and more and to keep myself active I did some volunteering for the Red Cross. It was a fantastic 6 months!
After working a few other jobs and finding myself at a loose end, I got a phone call from my recruitment agency asking me to expand on my CV's Office Management experience and I received a call back the next day for a company called Dimensions!
★ Tell me about your role now….
I arrived on my first day having had a car accident on the way (not a good start!). My job title is Executive PA/Facilities Manager but I wear a lot of hats in my role. I am the Executive PA for the CFO and the Executive Chairman of MWUK and the Managing Director of Dimensions. I also manage the facilities which includes keeping the building and its 250 employees running smoothly which is no easy task! The facilities role includes ensuring that regular maintenance tasks are carried out, eg. PAT testing, water testing, etc, and there is an element of H&S responsibility too as well as mundane things like ensuring we have sufficient office consumable supplies! I attend staff inductions and regularly review supplier contracts to negotiate terms. The list is endless! I'm the first port of call when someone needs to know something!
★ What are the biggest changes you've seen in the last 30 years in the workplace?
Technology has advanced so much from when I entered the workforce. I remember typing letters on a word processor, and all 3 Directors wanted a copy of everything as well as a file copy – we got through a lot of carbon paper! It's so much easier now everything is electronic!.
I also think women today are treated a lot more equally in the workplace. It used to be the women making the cups of tea and getting the sandwiches, now we make the men do it too! I think it's a much better time for the women now. It's exciting for me to see a lot more women in management too, when I first entered the workforce it was very male orientated and women were in the stereotypical roles such as secretaries and admin, there weren't many women in hands on roles. To see women breaking stereotypes and achieving their ambitions is a fantastic move forward.
★ What do you think the next 30 years holds for you, what do you think the biggest changes will be?
I envisage being in the workforce for another 15 years at least. I suppose I see myself being here as long as I physically can. I love my job and the people, and what the future will bring nobody knows. But I intend on sticking around as long as I can!
★ What's your favourite memory of the workplace from the last 30/20/10 years?
I've had many memorable moments and met numerous famous names during my time with Peugeot, but the most memorable was when the dealership I worked at was co-hosting a fundraising event for Scope, with the main guest being Gary Lineker. As I was laying the table plan out, a voice behind me asked if I needed a hand….."yes please" I said. I left a stack of name cards on a table without turning around to see who was helping me….yep, Gary Lineker!
★ If you could go back to the start of your career and offer yourself one piece of advice what would it be?
I'd say, never be put off by the obstacles in your way. I didn't have the option to do A-levels or university, in the 1980s my parents needed me out working and bringing a wage home. I couldn't fulfill my dreams straight away, but I made a plan, went out and did it. I'd tell myself "live your dream, if you know what you want to do, don't let anyone put you off doing it."