Logistics Centre Makes Investment In Flat-Bed Conveyor
Posted on 15 August, 2018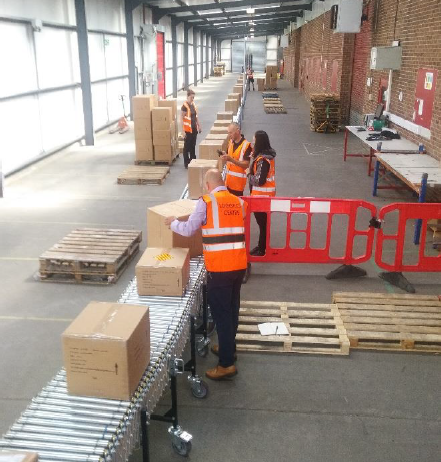 On Monday 30th July 2018, our Logistics Centre in Long Eaton commenced using the new 180 foot long flat-bed conveyor recently installed in the Goods Inwards department.
The first container delivery was overseen by Logistics Operations Director Steve Cassapi, and the 500 box container delivery was off loaded in less than 35 minutes.
The installation comes with a 24 foot long expandable flex conveyor for use as the container is being decanted, so foot fall isn't increased as the container empties.
It is expected that improvements in productivity will be evident within the first few weeks of use, due to the increased speed boxes can be offloaded, scanned, and placed onto pallets, without the need to stop the process due to a build-up of boxes on the old short kit. This results in a faster, more efficient service for our clients when we are processing their uniform.
Further improvements include lifting and handling techniques. This should be evident due to reconfiguration of the working area for stock to be palletised, processed and shipped round into the put away zones, without the need for double handling.
The project has been carried out in accordance with our Lean Six Sigma programme that we wrote about last year, and we predict the investment payback will be less than one year although our customers will begin to see the benefit almost immediately.