Dimensions celebrates first green belt graduates of Six Sigma training programme!
Posted on 26 February, 2018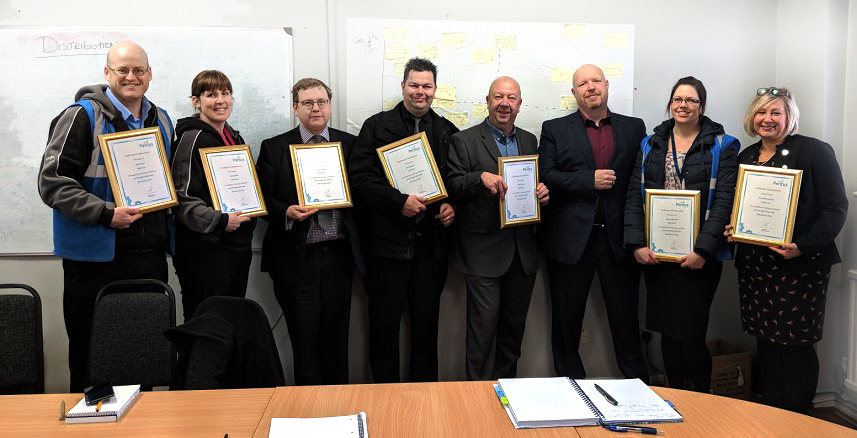 Dimensions are proud to announce that members of our first cohort of Six Sigma students have graduated from their training programme and have achieved the Green Belt level!
The objective of the Six Sigma methodology is to implement a measurement based strategy that focuses on process improvement and variation reduction through the application of improvement projects.
The programme works across two sub-methodologies that first focus on identifying improvement and looking for incremental improvement. Students are then encouraged to look deeper at the improvement areas and develop new processes that meet high quality levels set by Six Sigma. Students will first gain their Six Sigma Green Belts then progress to Six Sigma Black Belts.
The programme was rolled out to members of staff from both Dimensions' Castle Donington office and their Long Eaton Logistics Centre, and has been very well received.
Steve Cassapi, Logistics Director at Dimensions said; "I've never seen a group of more dedicated students. From working their full time jobs to going home and completing their homework, they've all just been fantastic. The Six Sigma philosophy of change for the better through continuous improvement fits in with what I try to do in our Logistics Centre and what Dimensions' do as a company. We are constantly looking to improve our service offering and our customer journey, Six Sigma empowers our employees to make those changes to improve. Overall, I'm delighted with the programme and the students' progress and I'm looking forward to the changes that will be implemented as a result."
Dimensions as a company are firm believers in developing and investing in their staff. NVQ's are undertaken across the teams, with staff gaining qualifications in Customer Service, Team Leading and Management and an in house e-learning portal has been introduced that spans a variety of subjects from mental health at work and stress management to GDPR and Data Protection.
Pat Woodfield, HR Director for MWUK addressed the students at their certificate presentation and said; "I'm a real believer in continual and lifelong learning, so we're going to continue developing and investing in our people. I'm delighted with the progress you have all made, and every certificate handed out today is well deserved."
​We believe in investing our people and developing our staff to be the best they can be. If you're looking to be a part of a company that invests in you, why not take a look at our careers page?