L is for… Logistics Director; Steve Cassapi
Posted on 01 October, 2018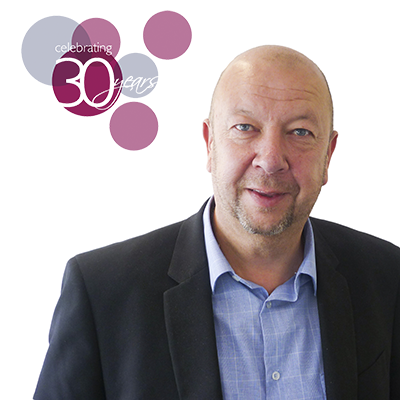 ★ Tell me about your first steps into the world of work…
I left school at 15, I'd played around most of my school life so I knew I wasn't going to achieve much. I decided to go travelling and travelled to Italy, France and Germany. I worked lots of different jobs such as grape picking, tomato canning and rose bud picking! When I came back I went to college on a towards employment course as I didn't have any qualifications. I worked a part time job at ASDA in West Bridgford to support myself through college, I was shelf stacking and brushing the floor in the warehouse!
I was enjoying college but one summer one of the junior managers went off sick and the Operations Manager asked if I'd step up temporarily to be an Assistant Manager. On the Thursday I was wearing a boiler suit and on the Friday I was in a shirt and trousers managing my colleagues! It was quite challenging as they were older and more experienced than I was. It was my first exposure to warehouse management and by the age of 20 I was running distribution, a massive achievement for me as I was the youngest ever warehouse manager - it was the start of the bug!
I then moved into retail operations in other developing stores. I traveled around in the role taking care of store openings, my job was to build the back up facilities, which were warehouses attached to the store. I did a spell at the first real ASDA supershed which was the regional distribution centre at Lutterworth as an Operations Manager, mainly dealing with with project implementation stuff.
★ I know you've been with the company since humble beginnings at Sketchleys, can you tell me more about that?
In the 1980's I'd decided I needed to settle down and I'd seen an advert for a company called Sketchleys that needed a stores manager and that was the start of my journey in MWUK.
When I joined Sketchleys they were Sketchleys Contract Services and only one customer, British Coal. British Coal wanted Sketchleys to run the distribution of their PPE so they asked me to set a warehouse up from scratch, literally from a piece of land up. I did that for about two and a half years and got this running well. Shortly afterwards the PLC needed someone to implement BS5750 as British Steel, British Coal and Ford UK could only use suppliers that were accredited. I implemented this across the business and was in quality manager within the PLC for 3 years.
I then decided my heart lay in Operations and Logistics and I was starting to miss working in the sector, so I told the Operations Director I wanted to move back, or I'd leave. I ended up moving to the Hinckley warehouse which at the time was 250,000sq ft. I took over the group logistics, laundries and high street dry cleaners, running the fleet and logistics. The group then acquired Super Snaps and I looked after their national warehousing and logistic needs.
I was then headhunted by Next and offered a job in their new supershed which I accepted straight away. Unfortunately due to circumstances beyond my control I then couldn't leave Nottingham and had to ask Sketchleys if they'd revoke my notice.
★ Tell me about Dimensions evolution, as I believe you were involved in the management buyout?
We'd already started Dimensions Corporate Clothing when Johnsons acquired Sketchleys. I was already servicing them as an internal customer, as I was a central service. They were no different to Sketchleys or Supersnaps. Johnsons then sold Dimensions and the Managing Director at the time, Simon Hughes, invited me into the management buyout in 2001.
I then officially became a Director within Dimensions Corporatewear LTD in Hinckley. It was a tough few years as we moved out of the Johnsons systems. We all pulled together though and pulled through and a few years later sold the business back to Johnsons. We went through massive changes as we merged Yaffy, DCC, Wessex Textiles and Boyd Cooper into our operations. It was such an interesting time for the Logistics Centre as we were redesigning our systems and building extensions.
Shortly afterwards we did another MBO and we later sold the business to the Men's Wearhouse. They had also acquired Alexandra which challenged me to move their Bristol based warehousing and distribution into the East Midlands. Working with Martin and his team was exciting and kept me engaged. I now run the customisation, group logistics, international shipping, customs clearance, our Compliance ISO9000, ISO14001 and ISO 27001. I'm certainly kept busy and motivated.
★ Tell me about the Logistics Centre now….
We have no hierarchy here, it's a very open culture. I strongly believe that we should allow everyone to have a go at something regardless of job title or "rank." Everyone should have an equal voice here to put forward ways to do things more ethically or more productively. My entire team know they can come and talk to me. I like to think that in the Logistics Centre we create leaders not managers.
I really enjoy what we're doing here. Everyone is working to the best of their ability - including me. I'm currently developing a culture based on the principles of Lean Six Sigma and I'm a green belt with aspirations of achieving black belt status. One thing I'm proud of is that I've been recognised as a fellow of the Chartered Institute of Transport and Logistics, to be recognised you have to be a participating role model with a recognised contribution to the sector.
★ What are the biggest changes you've seen in the last 30 years in the workplace?
I think firstly the status and recognition of the industry has changed. When I first started warehousing and distribution was seen as a cost to a business where today is considered to be a key selling point and critical part of a business's service offer. To see the industry go from something that was seen as blue collar work to something people are getting master's degrees in is brilliant.
The investment in technology over the last 30 years is incredible, especially advancements in high tech computer software and the development of automation and artificial intelligence.
Warehousing and logistics also used to be a very male orientated industry, however today it is very different and the mix of senior management and logistics innovators is equal, and the logistics centre within MWUK is a fantastic example.
★ If you could go back to the start of your career and offer yourself one piece of advice what would it be?
Travel and adventure young! By this I mean try and see lots of things before you decide on a career.