Happy Feet
Posted on 28 November, 2018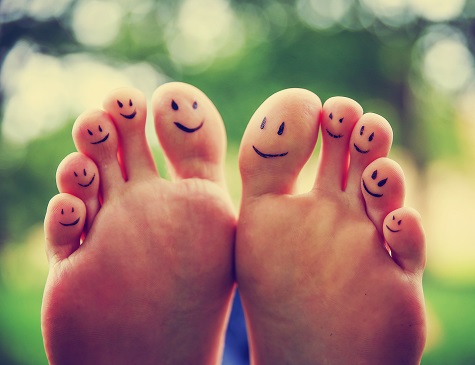 No we are not talking about an animated, dancing penguin! We are looking at how you can keep your feet happy at work as it is estimated that around 80% of the adult population has some form of foot problem and whilst not all of these are as a result of work activities, it is reported that a large proportion are.
Leonardo da Vinci quoted "the human foot is a masterpiece of engineering and a work of art" and with each foot having 100 moveable parts, including 26 bones and 20 muscles, that make up around a quarter of all the bones in your body, this statement is indeed true, yet we take our feet for granted much of the time.
You may be surprised to learn that the average person will walk approx. 150,000 miles in their lifetime which is more than four times around the earth and for every mile you walk, you shift the equivalent weight of a blue whale just by moving your own body forward, so it is little wonder that the majority of adults have a foot problem; the five most common being heel pain, athlete's foot, bunions, corns and calluses, ingrowing toenails.
So, what can be done to keep your feet happy in the workplace?
Many problems are caused by inadequate footwear, therefore it is imperative that workers should be able to wear the footwear that is appropriate to their occupation, working environment, and feet.
If safety shoes are appropriate for the occupation, then they should be comfortable and correctly fitted. Despite the misconception that safety shoes, particularly with protective toecaps, are uncomfortable, if shoes are padded and fitted correctly, toecaps should not be felt at all.
It is reported that many minor foot ailments can be relieved with properly fitted and carefully selected shoes, so anyone can have happy feet in the workplace!.
For further information on foot health, go to: www.cop.org.uk or email marketing@dimensions.co.uk