A New Service Vehicle Marks a New Era for Dimensions!
Posted on 17 January, 2018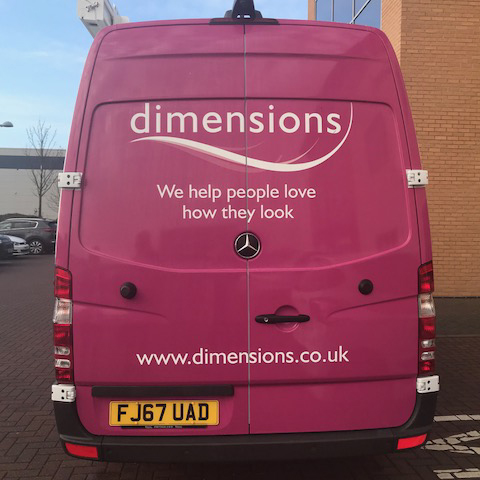 Although we've taken our fitting on the road for many years now, the launch of our brand evolution on Wednesday 10th January also brought with it the launch of new innovations.
In the autumn of 2017 Dimensions commissioned a Mercedes Sprinter emblazoned with our livery to enable our customer's journeys to be even easier. Replacing the previous service vans, the new vehicle carries state of the art equipment to make our customers fitting experience easy and comfortable. Manned by our Customer Service Executives, the van contains 2 changing room spaces, with full length mirrors, a TV Screen and of course, lots of storage space for a wider range of garments. With full lighting and heating, it really is a mobile customer service department.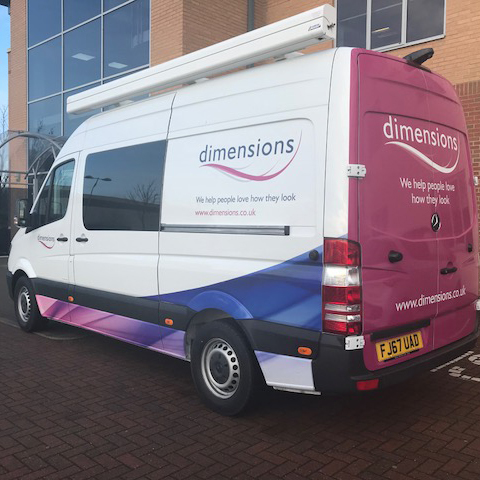 Previously, our Customer Services Executives have used a dedicated room in the customers work place in which to fit the wearers into their uniforms, but often the lack of appropriate space lead to creative solutions! Our team have had to think outside the box and use anything from a restroom facility to an unconverted artic lorry! Using our specially kitted out service vehicle means our clients aren't inconvenienced, and our wearers have all the facilities they need to try on garments in comfort.
Customer Service Manager Julie Wright is delighted with new service vehicles and said; "I'm delighted that the team now has the capability to perform fittings on the road. Having the Dimensions van will enable us to better serve our customers by taking a wider range of garments with us when performing fittings. The team are excited and raring to get started."
Phil Harland, Dimensions Director of Client Management said:

"We're always keen to make our customer journey with Dimensions, one of comfort and professionalism. Commissioning the Dimensions service vehicle demonstrates the level of commitment we have to our customer. I'm delighted with how the new service vehicle has come out and I know that it will only help our industry leading customer service team with their fittings and service provision."