5 minutes with… Dominique Arthur
Posted on 05 March, 2018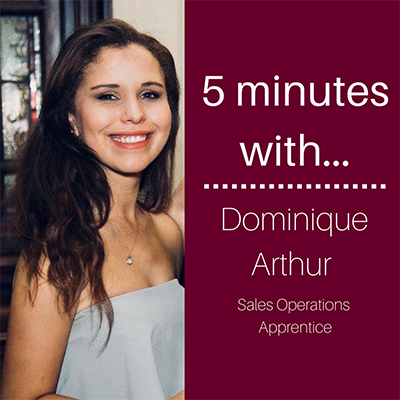 It's National Apprenticeship Week 2018, and what could be better than a catch up with our very own apprentice Dominique! Dominique is a talented member of our Sales Ops team who is also on an Apprenticeship scheme with us.

Q: How long have you been working for Dimensions?
Just over 3 months
Q: What does a typical week look like for you?
Usually completing reports, sitting in review meetings, training, personal tutor visits & tasks set by my managers.
Q: Which departments do you work closest with?
Apart from forecasting in sale ops, usually the account managers & purchasing
Q: What made you decide to take up an Apprenticeship?
I wanted to gain experience within a working environment but at the same time I still wanted to gain qualifications within business, hopefully I will continue getting higher levels within the apprenticeship scheme and maybe even courses as the years go on.
Q: What's the best thing about working in Sales Ops?
It really gives a great all round view on how the business works, and the team I work with are great which is a massive plus.
Q: What do you enjoy most about your job role?
Every task I get I am learning, I love that this role has aspects of maths in it which I haven't touched upon since I was doing my gcses, it's very rewarding when I have completed something that I know really helps the business even if it's only a small contribution.
Q: How would you describe yourself in 3 words?
Confident, bubbly and driven
Q: What makes Dimensions so successful as a great place to work?
The people are so nice, they really stretch out to help you if you need, all the departments tie in together well & there are so many things to get involved in even outside work hours which makes the environment so friendly.
Q: What advice would you give to someone looking to start an Apprenticeship?
To make sure you really spend time to pick the role you want in a business but more importantly you are picking a company that you believe will be helpful for you to learn what you aim to. Also to make sure you have the time organisation to balance your studies and your work.
Q: Where do you see yourself in 5 years?
Hopefully with a level 5 or 6 apprenticeship, maybe an accounting course. I hope to own my first property, probably in Nottingham, if I'm lucky I'd like to move back down to London. And I hope to be in a job that I love but still drawing, painting and playing hockey.
Q: Give us three facts about yourself!
I play hockey for Loughborough 2s, I draw hip hop artists using just their lyrics for a company & paint for commission all outside of work as I have a passion for art and I am half Dominican so I am currently doing a few bit of charity work as my family the island recently got badly affected by a hurricane.
​If you're hungry to succeed in an Apprenticeship, have you seen our vacancies in our careers page? Take a look by clicking here