Catwalk to High Street: Is imitation the sincerest form of flattery?
Posted on 28 November, 2017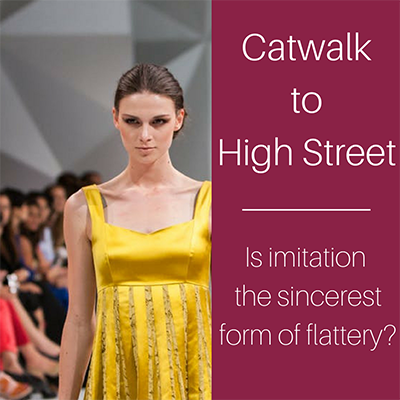 Over 300 years ago in 1714, English writer Eustace Budgell wrote in The Spectator that "Imitation is a kind of artless flattery", a phrase which was then, ironically, revised by Charles Caleb Colton in the 19th century to be the now-famous quote "Imitation is the sincerest form of flattery."
But, is imitation the sincerest form of flattery or is it simply seen as an unethical act of plagiarism?
In many industries, protecting intellectual property rights has become big business, with more and more companies wanting to safeguard their valuable assets. However, in industries such as music and fashion, growth and creativity within the industry relies on imitation.
We know that musicians and designers take inspiration from each other; in fact it is recognised that the high street is heavily influenced by the catwalks of London Fashion Week. So, when is imitation seen as inspiration or simply just copying?
Reports suggest that many designers are keen for their ideas to be popularised and fashion houses are flattered when they see their designs re-interpreted on the high street. Indeed, in recent years designers have collaborated with high street retailers to create affordable versions of their own designs.
To copy an individual or organisation is often an unintended complement and a great tribute to the success of those that are copied. In the corporate world, market leaders are often copied by smaller companies as it is natural that they aspire to be seen as successful in their field.
However, unlike the fashion or music industry, within the business world, imitators rarely have the substance behind the style. Market leaders invest in research & development and innovation is at the forefront of their strategy; those who concentrate on copying seldom have the vision to focus on leading the field.
As market leader within the UK corporate clothing industry, we strive to lead the way in innovation and service. Our technical garment and fabric developments are often first into our trading theatre and our IT developments are innovative and progressive in delivering customer service. When our clients tell us that our standards are the ones that they measure others against we are both flattered and honoured. After all, Coco Chanel said "if you want to be original, be ready to be copied!"
​For original work wear that can't be copied, get in touch with us today by emailing hello@dimensions.co.uk