5 minutes with… Ken Wright
Posted on 22 November, 2017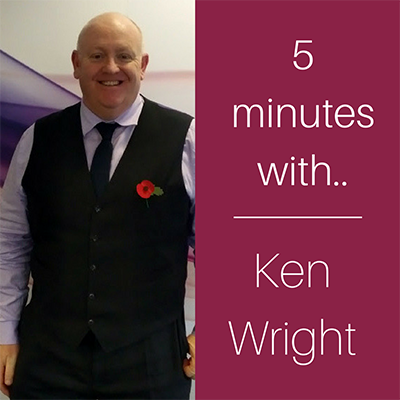 How long have you been working at Dimensions?
6 years in January.
What does a typical working week look like for you?
My job is so varied it's hard to say what a typical week looks like. A working week can see me presenting to customers, meeting with suppliers, sitting with design to look at new innovations and visiting mills internationally. It's a busy job!
Which departments do you work most closely with and why?
New Business & Design – my role is new product development of fabrics and innovation. To keep us ahead of the competition our design team incorporate the new innovations and fabrics into their designs that often go out to tender with our new business team.
Is there a time of year that is busiest for you?
Unlike the mainstream fashion industry there's no seasons in corporate wear so it's the same all the year round. We're very busy, but productively busy.
Which part of your job do you enjoy the most?
This is a difficult one… I'm torn between finding new innovation such as 37.5 technology, and then seeing that new technology being used across our work wear.
What is the most challenging part of your job?
Trying to match what's being done in the retail sector into the financial demands of corporate wear, but it's a challenge I enjoy.
What makes Dimensions' Technical team market leading?
The people. We have over 100 years' experience between us. I'm in awe of my team and their open mindedness to take on challenges, no is never an option!
How would you describe Dimensions' Technical team in three words?
Passionate, Diverse, Perfectionists!
What fabric innovation have you seen recently that you're most excited about?
37.5 Technology without a doubt. There's been lots of different fabric that offer temperature regulating solutions but this is the most effective I've seen in over 20 years in the industry.
What has been the highlight of your career at Dimensions so far?
After working relentlessly for over 3 years on a large international contract, finding out we'd won the bid was definitely the highlight if my career.
Give us three facts about your team:
1. Between us, we have over 100 years of experience.
2. We have an avid golfer in our team with an incredible handicap of 2!
3. We deal with suppliers from over 18 countries including, UK, Bangladesh, Pakistan and India.