Star of the Month
Posted on 23 November, 2016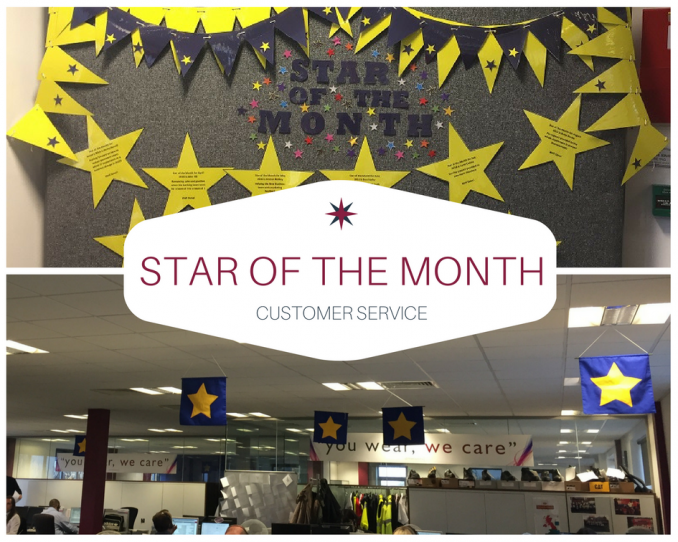 We have a fantastic growing team of around 40 Customer Service Co-ordinators, who are passionate about delivering exceptional customer service to our international client base. To celebrate the brilliant work that our Customer Service team does all year round, we award Star of the Month to one Co-ordinator each month.
Nominations for Star of the Month are put forward by both clients and other members of the Customer Service team, to thank Co-ordinators for things that they have done for our clients, which go above and beyond expectations. All nominees are given a token of appreciation, with the named winner being awarded a gift and recognised by a star which is hung above their desk.
Star of the Month is aimed to encourage the sharing of best practise and collaboration amongst Co-ordinators, as well as to say a huge thank you to those that go the extra mile to provide the very best service and support to our clients.
Here are just a few of the wonderful nominations that have come through this year so far…
James – nominated by an employee from EE
'I just needed to take 2 minutes out of my day to tell you about the service I have received from James today.
Due to an error on our end, we have ended up with no uniforms. James being a total superstar (I'm not sure if he wears a cape to work, but if he doesn't, he surely should), organised an order that had been placed to come to my address (I am a new store and not yet on the books) for when I need them to arrive for. I asked my HO to sort this for me, but it took me speaking to James and him taking the action needed, to ensure this has happened for me.
My biggest thanks goes out to James and what a wonderful team member you have delivering brilliant service beyond expectations, what a credit he is to you.'
Carol - nominated by her Team Leader
'A Post Office site contacted the help desk and spoke to Carol, regarding a return they had to do urgently. As the process is normally a 2 week process, Carol offered to collect the item from the customer as she was on holiday in Scarborough that weekend. I feel Carol definitely went above and beyond to help fulfil the customer's needs, Carol has collected the item and exchange has been arranged.'
Jose – nominated by our Customer Service Manager
'Please can I nominate Jose for Star of the Month? When he got to Glasgow for a customer's fit event, the Uniform Co-ordinator asked him to start work at 4am to capture the orders for the wearers, so he was getting up at 2.50am to get to the location before the employees started work!'
Emmanuelle - nominated by a partner from John Lewis Partnership
'I had some problems trying to order business dress on line and by email. I particularly wanted to have a new suit for an interview for a new position within the John Lewis Partnership. I just wanted to let you know that your salesperson Emmanuelle was amazingly helpful and somehow managed to get a suitable jacket and trousers to me in time for my interview. It made a huge difference for me to feel I could wear a new suit to replace my existing one that I already knew fitted and was comfortable to wear. I have heard I have been offered the job and I just wanted Emmanuelle to know how much I appreciate her effort. Many, many thanks.'
Terri - nominated by our Customer Experience Lead
'Terri hand delivered some aprons to McDonald's on her way home, even though it was two stops further than she normally gets off! Going above and beyond!
On the same day, Terri got a call from a Pizza Hut store which hadn't received a delivery. When Terri looked into this, she discovered that the delivery had been signed for by the builders re-fitting the restaurant. Terri located the builder's number on Google and called them to ask them to liaise directly with the store manager to discuss a handover of the delivery.'
Well done to you all! We are looking forward to seeing who will be nominated next month!