Team Dimensions walk 16 miles to support The Greggs Foundation.
Posted on 21 September, 2023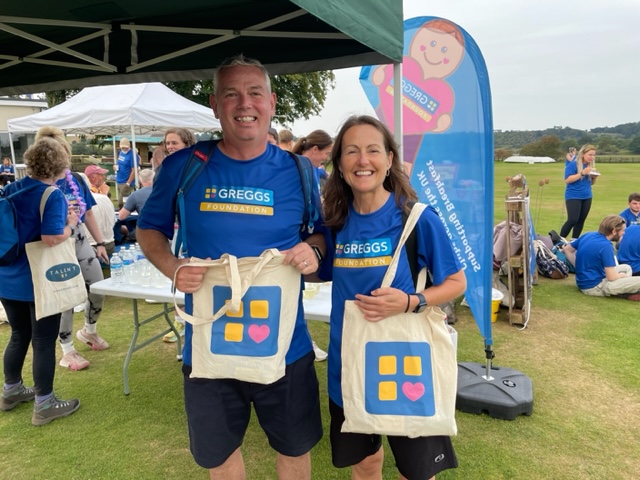 On Thursday 7th September 2023 team Dimensions took part in The Greggs Foundation 'Sea to Shore' Challenge – a 16 mile walk along the Northumberland coastline.
Nearly 200 generous walkers joined the annual fundraising event. The challenge was a 16 mile walk along the most spectacular section that Northumberland has to offer, starting at Sea Houses and finishing at Alnmouth and Lesbury Cricket Club. The route took the walkers through some idyllic scenery including 3 golf courses and wonderful stretches of coastline.
Team Dimensions included Commercial Director, Ian McGinty, and Head of Design, Julie Dowman. The duo walked with the group throughout the day, completing the 16 miles in 6 and a half hours, and clocking an impressive 47,200 steps. The Team thoroughly enjoyed spending valuable time with many likeminded supporters of The Foundation.
Dimensions provided 200 branded t-shirts, raising £300 towards the total. The brightly branded t-shirts helped catch the eyes of many passers by, started conversations and helped raise awareness of the wonderful works achieved by The Foundation.
The annual challenge and all those who participated helped raise over £30,000 for The Greggs Foundation Breakfast Clubs.
The Greggs Foundation has been providing a free breakfast to children who need it for more than two decades. Hungry children find it harder to concentrate and learn so the Breakfast Clubs help make sure as many children as possible are getting a good start. The Greggs Foundation currently has over 840 Breakfast Clubs in UK schools, supporting over 52,000 children with a free breakfast every single day. By the end of 2025, The Foundation hopes to have 1,000 clubs open.
Dimensions has been working with Greggs plc since July 2014, supplying their workforce with branded uniform. As part of Dimensions' ongoing relationship with Greggs plc Dimensions became a Supporter of the Greggs Foundation Breakfast Club programme in 2016 with a commitment to donate breakfasts to the children who live in food insecure households at Roe Farm Primary School. Dimensions donate 7,600 breakfasts every year and throughout our partnership have donated 60,800 breakfasts.
Dimensions is proud to be a supporter of the Greggs Foundation Breakfast Club Programme because it is a fabulous opportunity to support a school in the local community and provide those children living in food insecure households with a free breakfast every school day.
Head of Design at Dimensions, Julie Dowman said:
"We had another wonderful day supporting our customers and partners at Greggs, and even more importantly supporting the Foundation and amazing work they do. The day was full of fresh air, coastal paths and lots of fun along the route. The event was superbly organised, as always, by the Greggs Breakfast Club Team."
Breakfast Club Manager, Lynne Hindmarch said:
"We are incredibly grateful to all of the supporters who came along to our annual fundraising walk. 16 miles of walking is no small feat but the amount of money raised speaks volumes about the level of support we received on the day from all the wonderful walkers who took on the challenge. Thank you to Dimensions once again for your support in 2023."
Gallery