Top Ten Considerations When Choosing A Uniform Partner
Posted on 22 July, 2020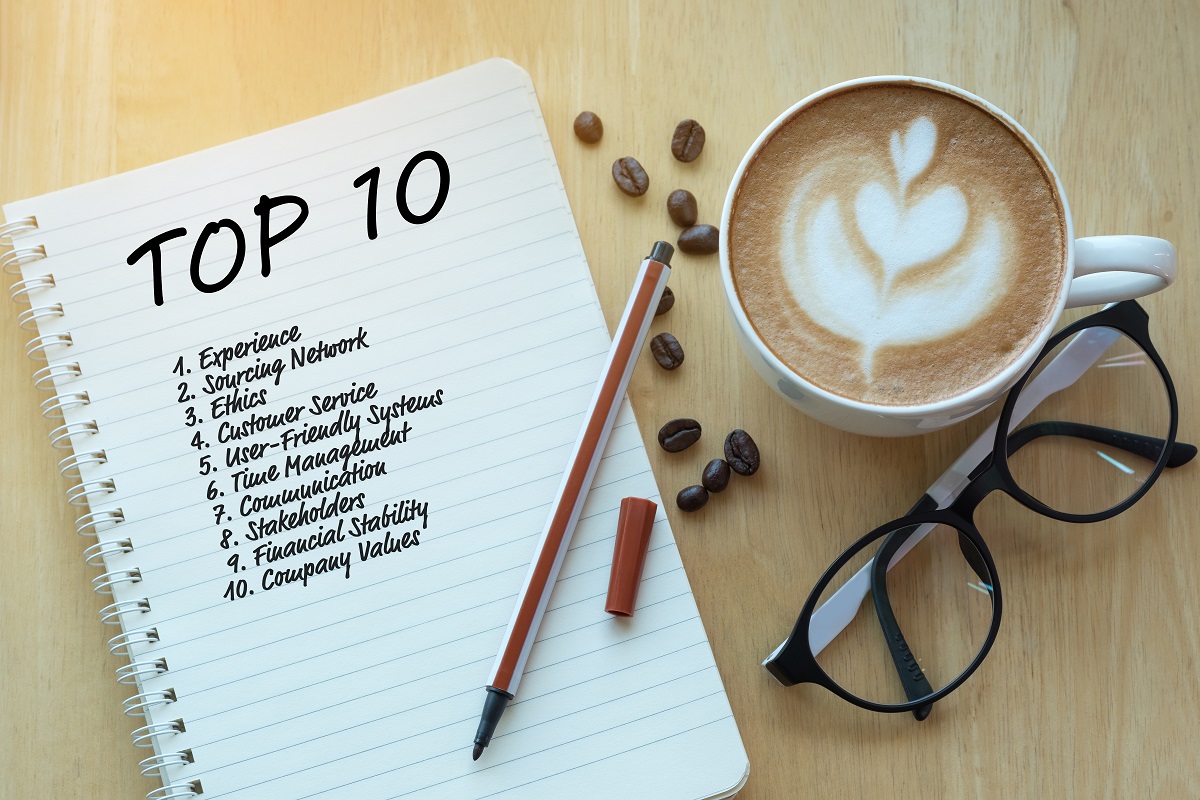 An organisation's workwear collection is one of the key elements of its identity. A uniform that has been well-executed ensures that staff are recognisable to customers, it encourages trust in the brand and increases employee pride and unity.
A corporate clothing range is also likely to be the largest bespoke wardrobe collection that anyone will be involved in purchasing, with some of the UK's largest retailers having up to 300,000 wearers. With that many people wearing the same collection on a daily basis, it is essential that the corporate wear programme is managed by the right supplier.
Let's look at the top ten things to consider when choosing your uniform partner.
1. Experience
One of the primary considerations, should be the experience of the members within the team who will be dealing with your account, as well as the experience of the organisation as a whole. Are they knowledgeable about providing uniforms for your particular sector? It is a good idea to find out who they have previously worked with in your sector.
Another factor is who their current clients are and whether they are happy with the service that they are receiving. Ask whether they have any case studies or testimonials from clients that they can share with you. Similarly, do they have experience of maintaining long-term client relationships? It can raise a red flag if a corporate wear supplier is not able to hold on to clients for longer than one contract term.
2. Sourcing Network
If the supplier does have experience or has long been established within the industry, then they should have a trusted sourcing network. For example, as a primary corporate wear supplier to source extensively off-shore, Dimensions has developed an established multi-site global sourcing chain which has been producing quality garments for over 20 years.
It is also a good idea to determine the audit process of their suppliers. Do they use internal or external auditors? How often are the factories visited and audits conducted?
The sourcing partners need to produce consistently high quality garments and be cost effective too, as budget is more than likely going to be a primary concern. However, it is important to consider the added value that an established sourcing network can provide to your corporate wear programme, not just cost.
3. Ethics
Whether ethical compliance and Corporate Social Responsibility are at the top of your priorities list or not, it is beneficial to partner with a supplier that is aware of its responsibility to conduct business ethically. Corporate clothing companies should strive to maintain best environmental practices to prevent waste and pollution during garment manufacture and understand that health, safety and welfare of employees, stakeholders and partners is of primary importance in the successful conduct of business.
It is also worth finding out whether the supplier is a member of any ethical associations or organisations such as the Ethical Trading Initiative or SEDEX.
4. Customer Service
It is well known that customer service can make or break a company's reputation. Before partnering with a corporate wear supplier, one of the key things to find out about is their customer service system and procedures. For example, are the customer service co-ordinators assigned to specific client accounts which they have expert knowledge of? If not, it can be very difficult to get consistently good service when you are dealing with different co-ordinators each time you need help and you have to re-explain the problem.
Another question is, do they offer multi-channel contact? Everyone has a preference of platform that they prefer to use, so it is helpful if the supplier's customer service department offers assistance over more than one channel.
Customer Service support in more than one language can also be a bonus, to make sure that all of your people can get the help that they need, regardless of what language they speak.
5. User-friendly Systems
Is their company website user-friendly and easy to navigate? Looking at a clothing supplier's public website can tell a lot about how their other systems might work, such as uniform ordering. It is crucial to ensure that it will be simple for both you and your wearers to order new garments and contact the correct person when you need to. Are their systems secure and efficient? Are they flexible and tailored to meet your specific requirements?
In terms of reporting, are the reporting systems clear and straightforward or are they difficult to understand? Try to find a supplier that makes the process of purchasing new uniform and monitoring its development as easy as possible for you.
Dimensions has developed an innovative, new online ordering platform Detail, which has the flexibility to be tailored to meet specific client requirements, and has been developed to be easy to use on PC, tablet or smartphone, providing accessibility at any time.
6. Time Management
Time management is an essential skill to look for when choosing a corporate wear supplier. Corporate clothing contracts can be for huge numbers of wearers, so it is crucial that the supplier can stick to agreed deadlines. Otherwise, thousands of people can be left without the workwear that they need to carry out their jobs properly.
It is a good idea to establish the supplier's average service level at the beginning of a contract, so that you can determine how reliable their time management is. Many departments contribute to ensuring that a uniform is rolled out on time, but it is key to find out whether the supplier's logistics partners are reliable and able to offer fast delivery.
Dimensions has also recently launched an innovative, self-service reporting tool, MiDetail, which gives up-to-date visibility of all the core information which is pertinent to the client's relationship with Dimensions. The platform provides 24/7 access to data and summaries relating to recent uniform sales, deliveries and returns, which are easy to interpret and utilise.
7. Communication
Effective communication is crucial for establishing and maintaining a successful relationship with a corporate wear supplier. Much like the advantages of having a dedicated customer service co-ordinator, it is beneficial to have an assigned account manager who is responsible for being the central point of contact from design through to delivery.
Dealing with multiple people on one issue can use up valuable time for both you and the supplier. An allocated account manager can deal with queries which may involve other members of the supply team, so that you only ever have to have a conversation once, rather than explaining the same issue to several people on different occasions.
8. Stakeholders
Further to this, there are also important conversations that need to be had with your stakeholders and staff, before approaching a corporate wear supplier. Wearers of the uniform can have valuable opinions on what the appropriate allocation is for their job role, as well as ideas about their preferred fabrics and fitting process.
Stakeholders of the business will also have different priorities, including the intention or purpose of the uniform, the budget and who will pay for the allocation – will the organisation pay for it or will the wearers be required to buy their own? All of the above need to be considered before investing into a corporate wear programme with a new or existing supplier.
9. Financial Stability
In the current circumstances looking for a company who is financially secure is a must as many companies within the corporate apparel market have been adversely affected.
10. Company Values
Finally, but most importantly, the corporate wear supplier's values should align with yours for a mutually beneficial relationship. You will probably be liaising with your corporate wear supplier on a daily basis for at least a year (generally) and therefore you need to ensure that it involves people which you believe that you can work happily with for that amount of time. The supplier should also be flexible and adaptable to change.
To discuss how Dimensions can help you choose the right corporate wear supplier for you, please email hello@dimensions.co.uk or call 01332 697185.