T is for Ties
Posted on 05 December, 2018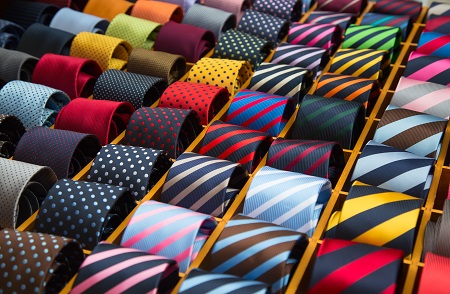 Historians mostly agree that the tie originated in the 17th century, during the French War. King Louis XIII hired Croatian mercenaries who wore cloth around their neck as part of their uniform. These early neckties were functional and tied the top of the mercenaries' jackets. They also had a decorative effect that King Louis quite liked! He like it so much he made ties a mandatory accessory for Royal gatherings and to honour the Croatian soldiers he named the garment "la cravat" which is still used in the French language today.
However, fast forward 4 centuries 42% of workers quizzed by The Independent believe the tie has fallen out of favour. One in seven workers think that the tie fell out of favour around 2010, whilst tie slides and clips have been considered obsolete since the late 80's.
The choice of ties are now more than ever, even offices and workplaces with the strictest dresscodes tend to allow some individuality with ties. The standard width for ties is around 3.25 inches, skinny ties are approximately 2 inches and designers often offer a size in between! Besides changes in width, ties now offer unique fabrics, weaves and patterns with bold floral and paisleys being all the rage in 2013.
Ties are still very popular for workwear in industries such as transport and banking with buyers stating they feel their wearers look more trustworthy and professional, so the connotations of a tie in the public hasn't changed since the days of power suits and shoulder pads!
What do you think? Drop us a line and let us know, or join the conversation on social media.